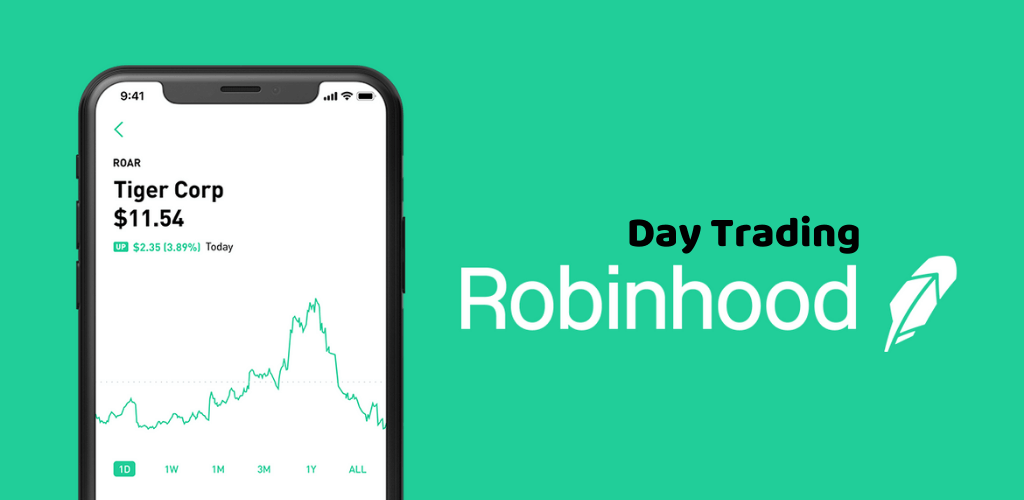 Are you a novice investor interested in the stock market, and looking to get some skin in the game? Are you unsure or lacking the confidence to dive in? Are you searching for a low-cost platform that can help you make safe and responsible trades? If you answered yes to even just one of these questions, you need to download the Robinhood app.
The Robinhood app is a commission-free way to dive into the world of day trading. It provides investors with a host of safeguards to drastically improve your chances of turning a profit.
Can You Day Trade On Robinhood?
Yes, of course! Robinhood is a comprehensive app that includes many amazing features, including day trading. But to leave it at that would do no justice in describing the incredible features you can access when you day trade on Robinhood.
The app gives you access to the following types of trades:
U.S. Exchange-Listed Stocks and ETFs
Options Contracts for U.S. Exchange-Listed Stocks and ETFs
Cryptocurrencies (Bitcoin, Bitcoin Cash, Bitcoin SV, Dogecoin, Etherium, Etherium Classic, Litecoin)
American Depository Receipts
Now that you know the answer to 'Can I day trade on Robinhood,' let's talk about the various restrictions placed on accounts to keep your money safe.  Yes, you heard us right! The name of the game is maximizing profits while minimizing risks. For that reason, Robinhood lets you invest responsibly based on the revenue you have to work with. Certain restrictions are placed on accounts to make sure an investor is not taking on too much risk.
Pattern Day Trading
This rule applies to investors with instant or gold Robinhood accounts. Your day trade is complete when you buy and then sell a specific stock on the same day. Your day trade limit is three trades in a five trading day period. The only exemption being if you have $25,000 in your account at the end of yesterday's trading day.
The 3 trade limit does not have to coordinate with the calendar week. If you trade from Thursday to the following Wednesday, this counts as a five day trading period. If you exceed your 3 trade limit during these 5 days, you'll receive a Day Trade Call.
Day Trade Calls
Each trading day, you are giving a limit of the amount of money you're able to work with. This depends on your current investment balance, as well as the number of stocks you're holding. Your limit goes up if your cash flow is greater than the number of stocks you're holding. It also increases if your portfolio is made up of low volatility stocks. In the event you exceed your limit, you'll receive a day trade call. It's important not to let the day trade call go unresolved because then it will result in a ninety calendar day ban from being able to place day trades.
Seem excessive? Luckily you have an option to resolve this matter before the ninety-day ban is imposed. You'll be required to deposit the amount of money that will be sent to you in an email. (After a five day settlement period you can withdraw that money)
Withdrawing Money and Settling Funds
Deposits can take up to five days to process. During that processing time, you will not be able to withdraw those funds. After the sale of a stock, there is a three-day settling process. The three-day process includes the sale day along with the two following days.
Margin Calls
If you're in a margin call, you will be prohibited from trading stocks, cryptos, or options. You can cover your margin call and lift this restriction by simply depositing money into your account or selling some of your holdings (stocks). It's important to be aware that if a margin call goes uncovered, a part of your portfolio might be sold by a Robinhood broker.
Aggressive Orders
A limit order could get rejected if it is deemed to be too risky. This usually means an order that doesn't reflect or represent a stock's current value. For example, a $2500 sell order on a stock sitting at 15 dollars doesn't hold much of a chance of being filled. This helps to fight against market manipulation and keep things on the level,
Benefits of day trading on the Robinhood App
Let's take a look at some of the benefits a Robinhood account can provide you with:
Commission Free Trades
Every dollar counts, no matter how experienced you are. But in most cases, beginner traders can't afford to risk as much as more experienced investors, Can you day trade on Robinhood and save money? The answer is yes. Robinhood won't charge you a commission, nor are there any administration fees for opening an account, money transfers, or money earned.
The only charge you would incur is imposed by the Financial Industry Regulatory Authority (FINRA) as well as the U.S. Securities and Exchange Commission (SEC). They automatically charge a small fee for all sell orders no matter which broker you're with. But rest assured none of this money goes to Robinhood. The charges are collected in full by the government agencies who bill them.
Easy To Get Started and Use
Accessibility and convenience are a couple of great features of the Robinhood app. Signing up for an account is easy, and it is available on the web and smartphones. US citizens with a valid social security number, who are 18 years or older, and have legal residence in the 50 states (Puerto Rico included) meet the requirements to apply for a Robinhood account. If you're not a US citizen, but have residency or a valid Visa and meet the rest of the requirements, you can also apply for a Robinhood account.
Feel Confident About Getting Started with Robinhood
The stock market, with all of its complexities and variables, does not have to be a scary place for a new investor.
It is true that with great risk comes great reward. But responsible risk-taking produces a far more consistent pattern of rewards.
The Robinhood app is designed to give you a competitive edge and foot in the door. Day trading on Robinhood is easy, affordable, and minimizes your risk as an investor. Get started today and build your future of financial freedom deep down your hand on day trading and earn money.
---