Top 5 Free Stock Market Games (Stock Simulators)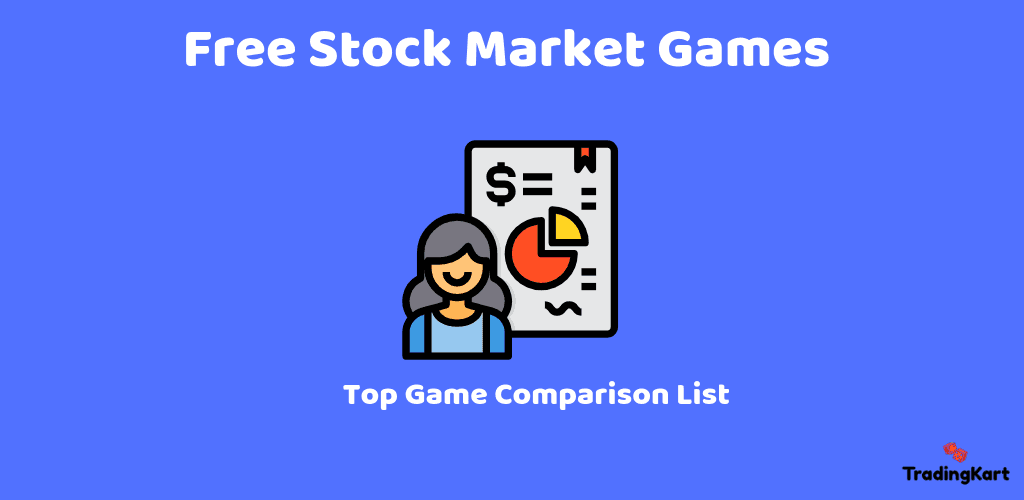 Have you ever said to yourself: I want to make money in the stock market, but I do not know the first thing about stocks?
Maybe you know a little bit but you are not quite comfortable enough to throw your money into real trades yet. Learning to trade in the stock market can be invaluable information that can lead to long term wealth, but most of us do not work in finance.
Sure, we always have the option of hiring a money-manager to handle our assets but the freedom to do as we please with our own money is something which we can all achieve by taking the right steps. The first of those steps may be playing stock market games.
See - History of Stock Market Games
Stock market games, often referred to as paper trading, allow individuals to buy and sell stocks, options, commodities, futures, swaps, and recently crypto currencies, depending on the platform, using play money.
Some platforms only have stocks, some only commodities, some a mixture of any or all of the aforementioned. Not all stock market games are created equal, so as someone looking to join a stock market game to learn and have fun at the same time, which one is best?
We compared the top stock market simulators available for United States stock market trading, and did delve into more complex forms of trading, as most people starting out in stock market games will be looking to learn the basics.
So, after playing all of these available games, which ones came out on top?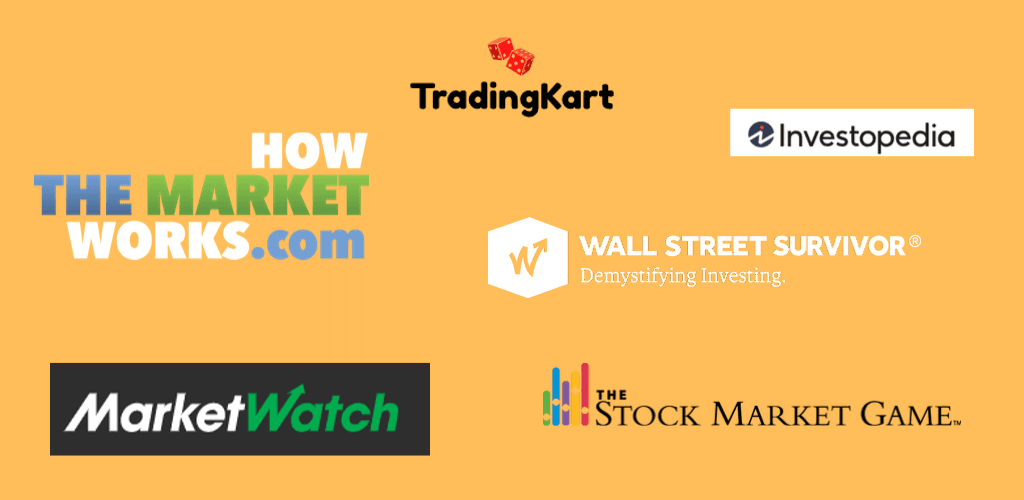 Tradingkart Stock Simulator
How The Market Works
Wall Street Survivor
Investopedia Simulator
The Stock Market Games
Virtual Stock Exchange by MarketWatch
Personal Finance Lab
SmartStocks
TradingKart Stock Simulator
TradingKart is the best stock market game and it really is not close. We loved everything about this website and what they had to offer in terms of learning real finance.
This is not only a great stock market game but perhaps the easiest and most valuable research tool you can find on the internet. What makes it so great? It is not difficult to even know where to begin as everything about this website is done well.
The sign-up process is simple and short, and immediately you are given an account with $1,000,000 to trade versus the $100,000 most other websites give to traders. This allows for traders to truly dive in and explore a large, diversified portfolio.
The interface is the cleanest we have seen with a pure white background, simple but well-designed buttons, a non-distracting font, and it runs extremely fast.

The research tools push Trading Kart even further past the competition than the design of the website already had.
There is a market summary tool that shows all the major indices, the sectors, as well as the top gainers and losers on the day.
Everything shown on the market summary is important for new investors yet nothing is too advanced. There is also a beautiful stock research tool. This tool shows all stocks from all sectors but has the option to search within specific sectors.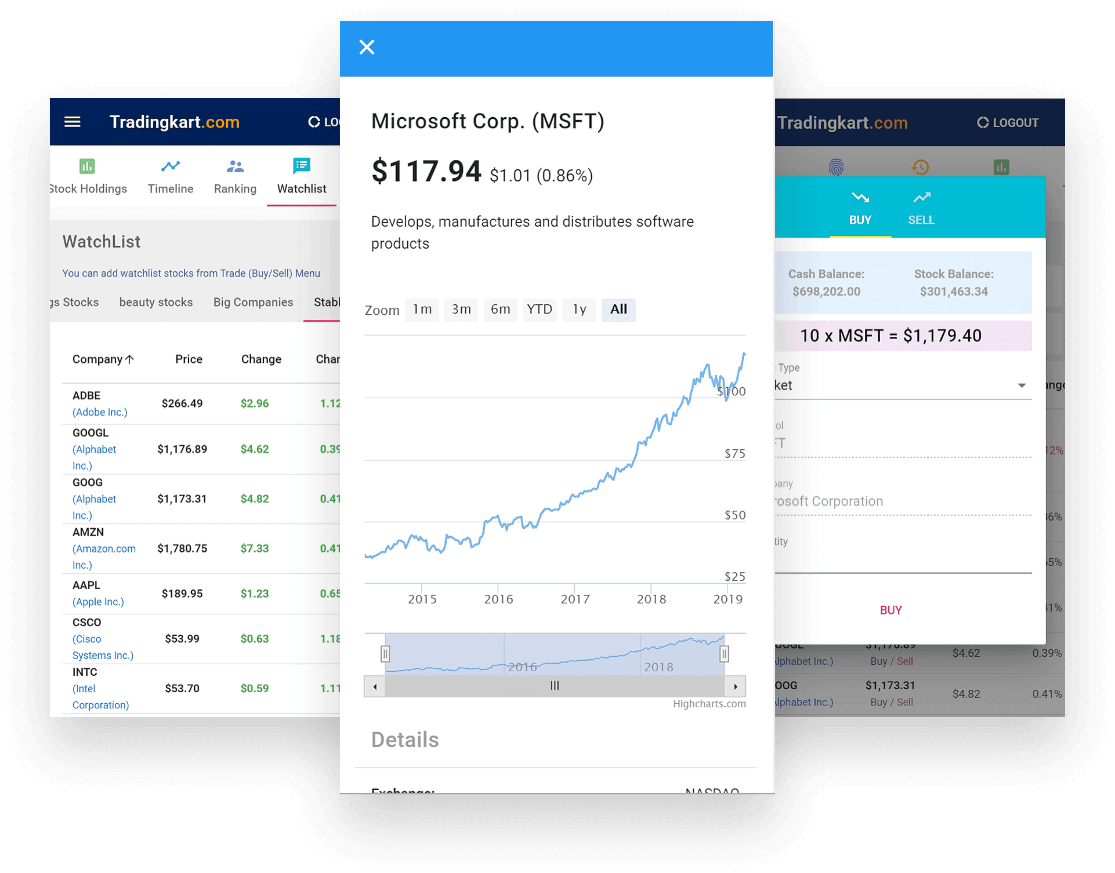 You will also find an easy to use search bar and once a stock is located, the information for each stock is ideal for learning what is actually necessary for successful investing.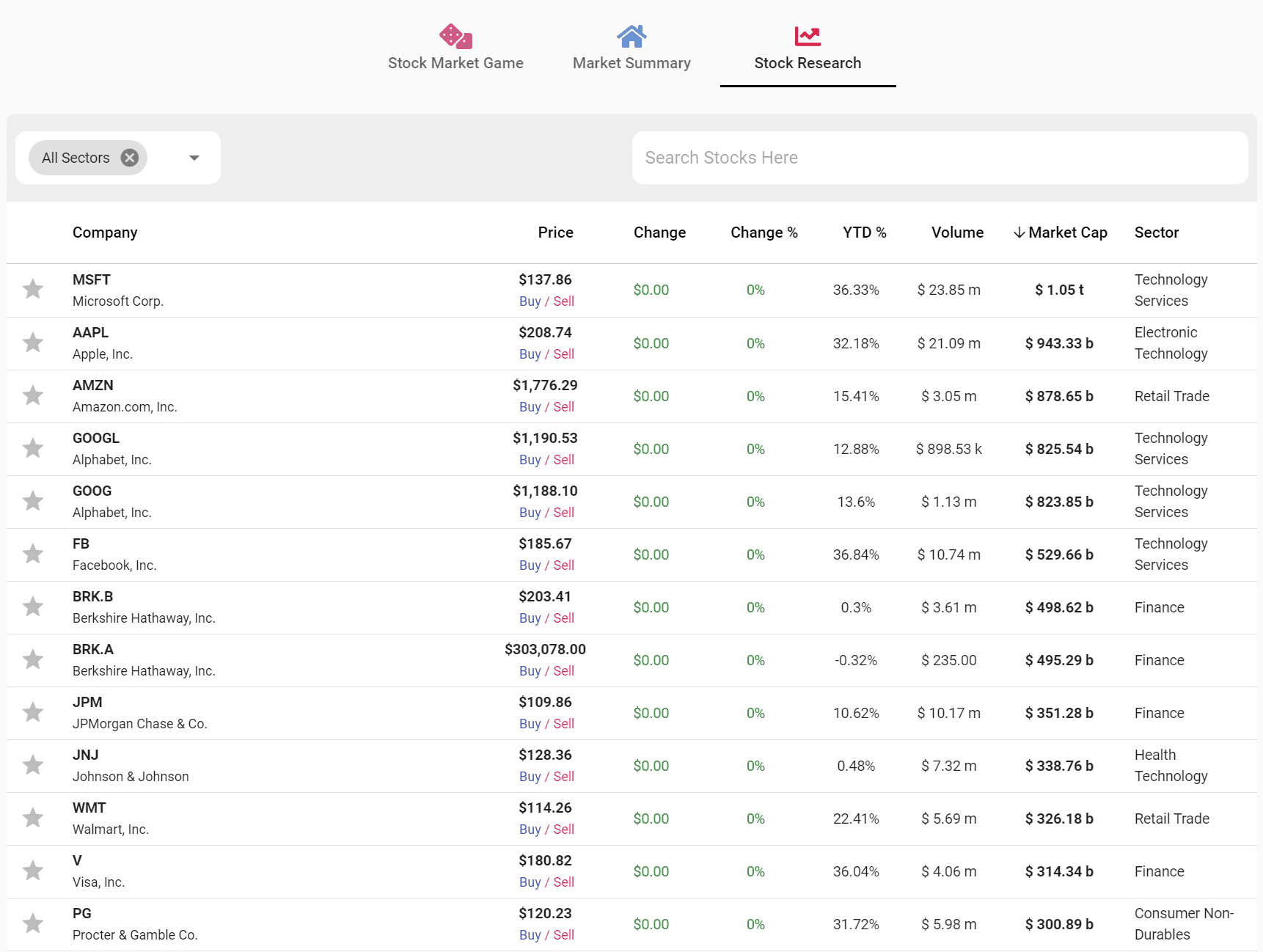 Each stock will give you graphs with varying lengths with an editable zoom tool to specify any time period in a stock's history.
You will see single month, quarterly, half-yearly, yearly, 3-year, and 5-year growth rates.
Subsequently there is: earnings dates, total employment, exchange, website, market cap, earning per share (EPS), dividend, dividend yield, price to earnings (PE) ratio, outstanding shares, and average volumes over varying lengths of time.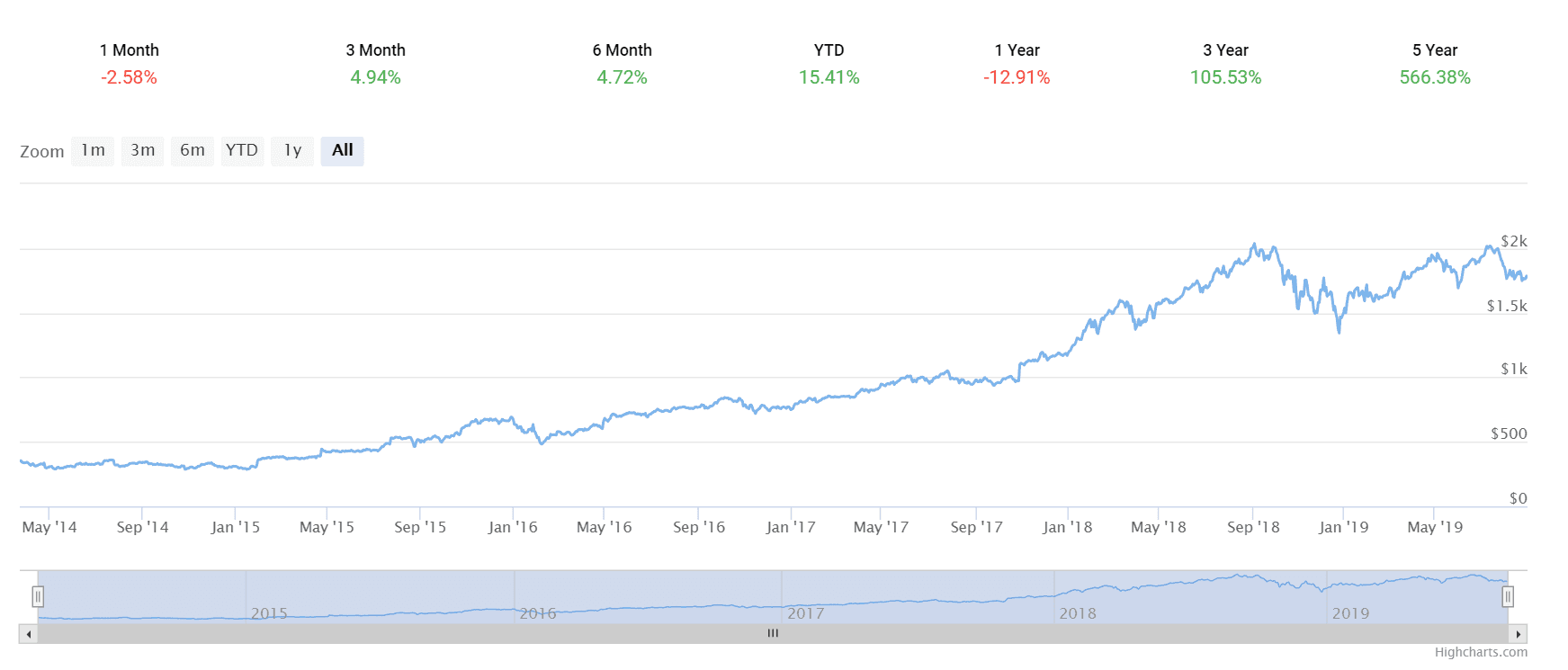 The research tools on Trading Kart are legitimately flawless and are exactly what modern investors are looking for when doing their own research.
The rest of the website is extremely well designed. You can create watch lists, see pending trades, and see current holdings very easily from the same menu.
Making trades is very easy and there is a nice timeline feature that allows you to see your trading history.
The ranking page also allows you to see exactly where you stand versus your peers overall, within specific sectors, and gives a daily ranking on top of the overall ranking.
We do not think we could ask for more from a stock market game. Trading Kart is an easy to use website that has everything we need, without distracting tools that encourage bad investing behavior.
Pros:
Clean website that is easy to navigate
Perfect research tools
Higher investing limit of $1 million
Offers portfolio analysis
Real-time quotes
Great rankings page
Avoids improper trading habits such as relying on analyst ratings or awarding penny-stock trading/day-trading
Cons:
You might be interested to learn stock market games. See this article -   How to Use Stock Market Game?
How the Market Works
How the Market Works is an interesting stock market game that is a little bit different to most on this list. While there is the ability to invest long term with varying amounts of money (you can choose up to $1,000,000), there are also monthly competitions.
This website has its positives but also has some downfalls which unfortunately take it down a few spots on our list. Starting with the positives, there is a plethora of great information on this website and much of it is valuable to fundamental investing and finance.
There are also great teacher resources if this website is being used for educational purposes and it includes everything from webinars to lesson plans. We also saw a section for job and internship searches which is phenomenal.

How the Market works differentiates between beginner tools and advanced tools so that those who already have some base knowledge can still participate and learn without feeling like their information was oversimplified.
Compared to Wall Street Survivor, the information contained on How the Market Works seems better put together and easier to understand without being too simple.
This website also has good, and complete, company information but does fall short of TradingKart because the information is spread across multiple pages which must be navigated, whereas TradingKart found a simple and clean way to put all the information beautifully on to one page.
Despite having a ton of great information and very good trading tools, there are some negatives that make How the Market Works slightly less impressive than TradingKart.
The website, much like Wall Street Survivor, is overly busy and there are too many windows to navigate across.
The graphics are very bright and distracting and should be simplified.
Much like some of the other sites on here, there are advertisements on the site which knock it down a notch. There is also a longer and more difficult sign-up process.
Pros:
Great information that is easy to understand
Very good teaching tools
Easy to make trades
Fun contest variations
Cons:
Site is overwhelming and can be tough to sort through
Advertisements throughout the site
Slightly longer sign-up process
Wall Street Survivor
Wall Street Survivor has been around for years and is a great game for anyone looking to learn stock market finance.
There are so many tools on this website that anyone can learn, but that comes with the drawback of being slightly overwhelming.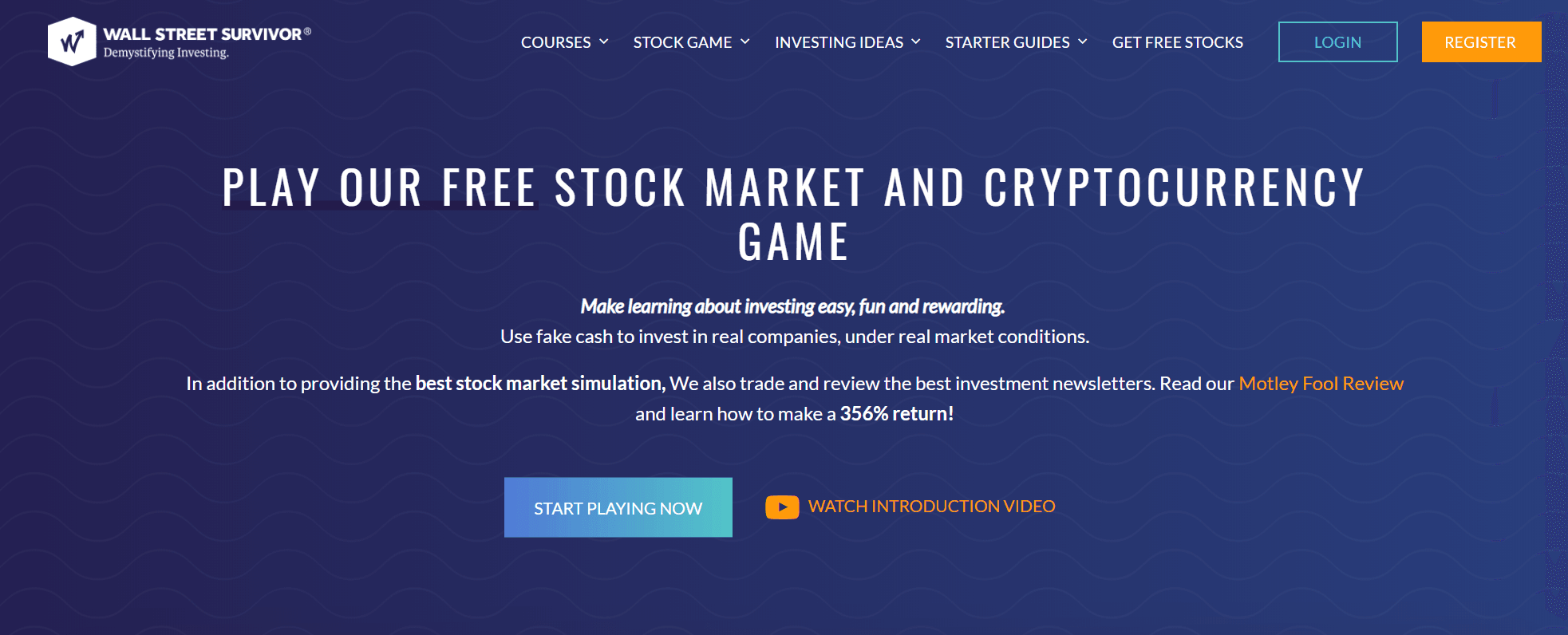 However, there are definitely more positives than negatives. Wall Street Survivor offers easy to use trading tools and though the emphasis of this article is stocks, they also offer options and crypto currencies.
The ability to buy and sell stocks is done simply here and trades process relatively quickly.
The competitions in Wall Street Survivor are done very well and can be compared to fantasy sports in the sense that leagues can be created to compete against friends or random individuals.
There are also cash-prizes offered for some of the competitions which encourage more life-like trading behaviors. The trading tools within this website are up there with the best.
However, the rest of this website can be a bit divisive. The design of the website is quite eclectic and there is information scattered everywhere, albeit plenty of good information, but not concise and well located.
The color schemes can be distracting and it can be a bit difficult to navigate.
However, the research tools here may be the most divisive. There is plenty of information contained on Wall Street Survivor, comparable to any other stock market games available online but much of this information is awkward and either oversimplified or not effective.
Wall Street Survivor offers courses and many of them are too long and overly simple for anyone to stay interested enough to learn anything of value.
There is also a large amount of empty data. Whereas Trading Kart has all of the financial information for every stock, many of the ratios, growth rates, and company information are missing on Wall Street Survivor, an issue that needs fixing.
Most stocks have analyst ratings, but since analysts are paid to work on specific stocks, this information can often be misleading and does not encourage proper research using fundamental financial information.
The website has other minor issues as well. The home page is very scattered and it can be difficult to focus on what is important. There are also advertisements all over the page which can be distracting.
However, ultimately, the majority of the information Wall Street Survivor is good, sound information. It is simple to make trades and there are a lot of great tools to use, even if they are difficult to find.
Pros:
Lots of great information
Easy to make trades
Fun interactive leagues and cash prizes
Cons:
Very eclectic and scattered website
Missing a lot of financial information
Distracting advertisements
Investopedia Stock Simulator
Investopedia is a great website for learning simple finance and their stock market simulator reflects their goal of teaching the basics, now specifically related to stock market finance, trading, and investing.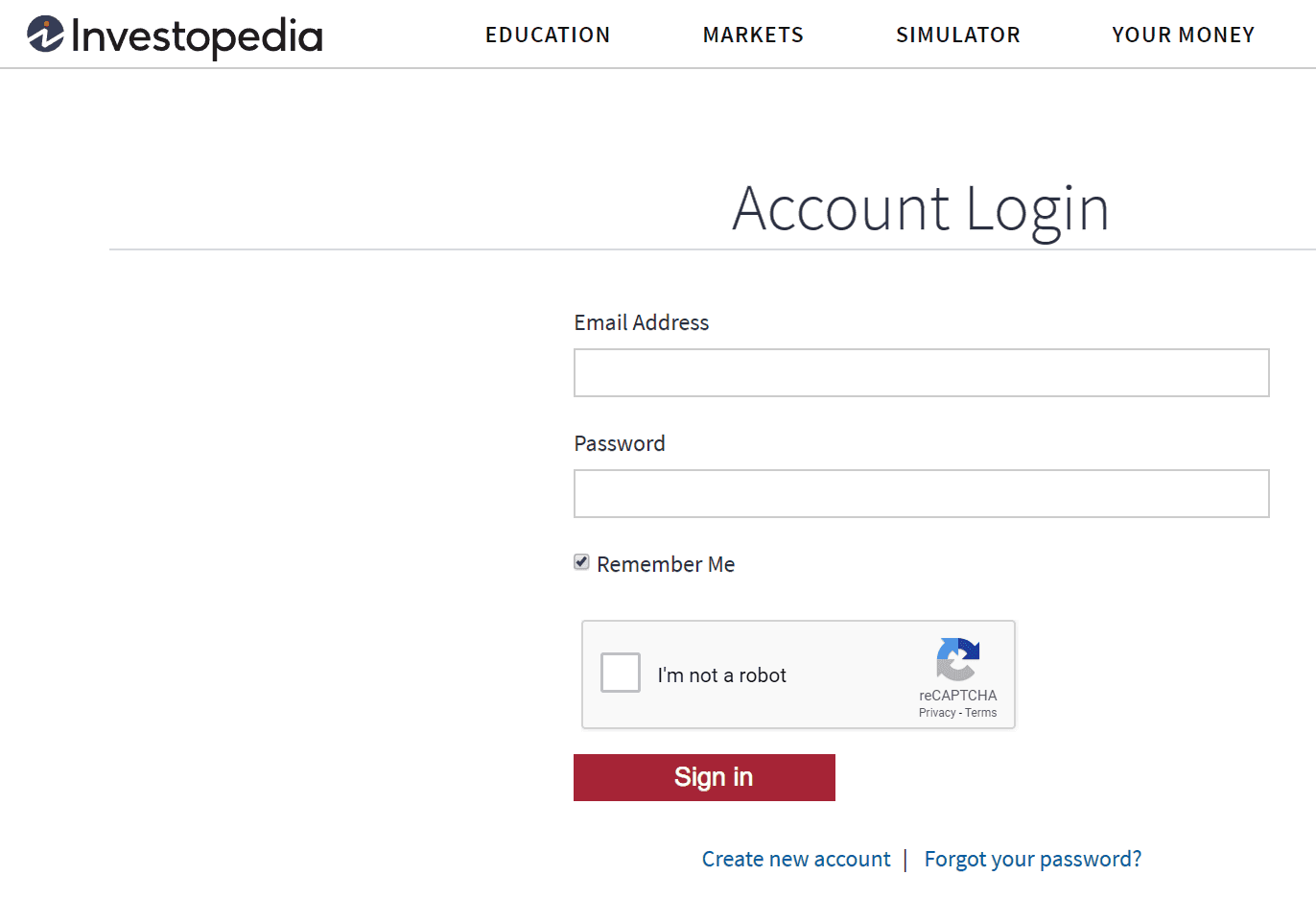 The sign-up process is relatively easy and the interface is easy to navigate. However, the website has several features that we consider unnecessary or cumbersome.
The website has trading awards that distract from the main goal of learning proper finance.
The trading awards encourage things such as day-trading, penny stock trading, and buying on margin which may encourage unhealthy investing behaviors.
There is also a messaging application but rather than messaging other beginners, it would be more worthwhile for users to utilize professionals or chat through Stocktwits.
Investopedia is also on a 15 minute delay and the site is covered in ads. However, it does have decent research tools and trades are easy to make.
Pros:
Easy to navigate
Trades are easy to make
Decent research tools
Cons:
Some unnecessary features
Ads on the website
On a delay
The Stock Market Game
The stock market game has been used for years by schools and teachers but can be used by other individuals by specifying so during the sign-up process.

This interface is one of the classic stock market games and predates many of the games you see nowadays online and on this list.
However, the original is not always the best. While the stock market game is good and is absolutely well designed, it definitely has its downfalls.
The sign-process is long and clunky and almost deters you from wanting to get involved.
Once into the game, it lacks a lot of the features that other games possess such as proper research tools and education tools.
The game is also difficult to access because it runs competitions over specified dates, rather than open entry and exit like the other games on this list.
We also considered it a downfall that many of our competitors may be students and thus may be required to compete as opposed to entering willingly, thus diminishing effort.
However, ultimately our only competition is us versus the average returns of the S&P and so this is only a slight knock.
Pros:
Clean interface
Easy to use dropdown menus
Good glossary of financial terms
Cons:
Clunky sign-up process
Specified contest dates rather than open entry
Limited research and learning tools
Virtual Stock Exchange by MarketWatch
Offered by MarketWatch, Virtual Stock Exchange provides one of the most exclusive and elegant experiences of trading the stock market across any device.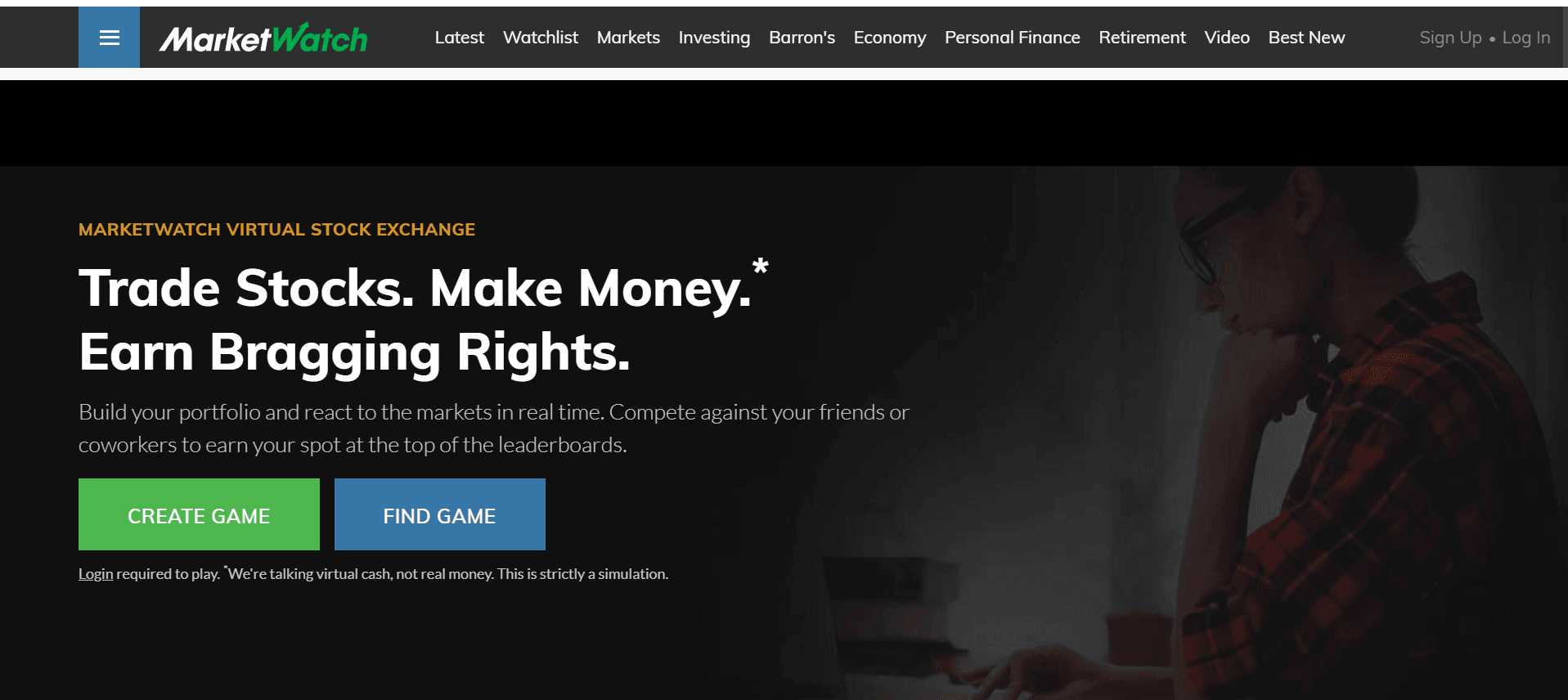 The free stock market game comes with 30 in-built lessons that strive to equip students with the much-needed basics and skills for trading stocks, ETFs as well as currencies.
In addition to trading tutorials, Virtual Stock Exchange also enables advanced options like limit and stop orders as well as partial shares, making it possible to get a full feel of the stock trading spectacle.
Participants are also allowed to build and monitor custom watch lists as they continue to watch already implemented trades.
Similarly, it is possible to set the starting budget with this free stock market game as well as enjoy margin trading.
The fact that Virtual Stock Exchange comes with stocks from over 30 countries makes it an ideal pick for people outside North America as well.
Pros
Sufficient stock trading material that is easy to understand
A good stock trading game for people looking to practice global investing
real-time quotes
easy to make trades and set up contests
Comes in different languages
Simple registration process
Cons
Distracting ads
Long set up process
An array of exchanges create room for cheating as some prices are not real-time
Personal Finance Lab
Contrary to perception, stock trading is not the domain of experienced finance professionals only.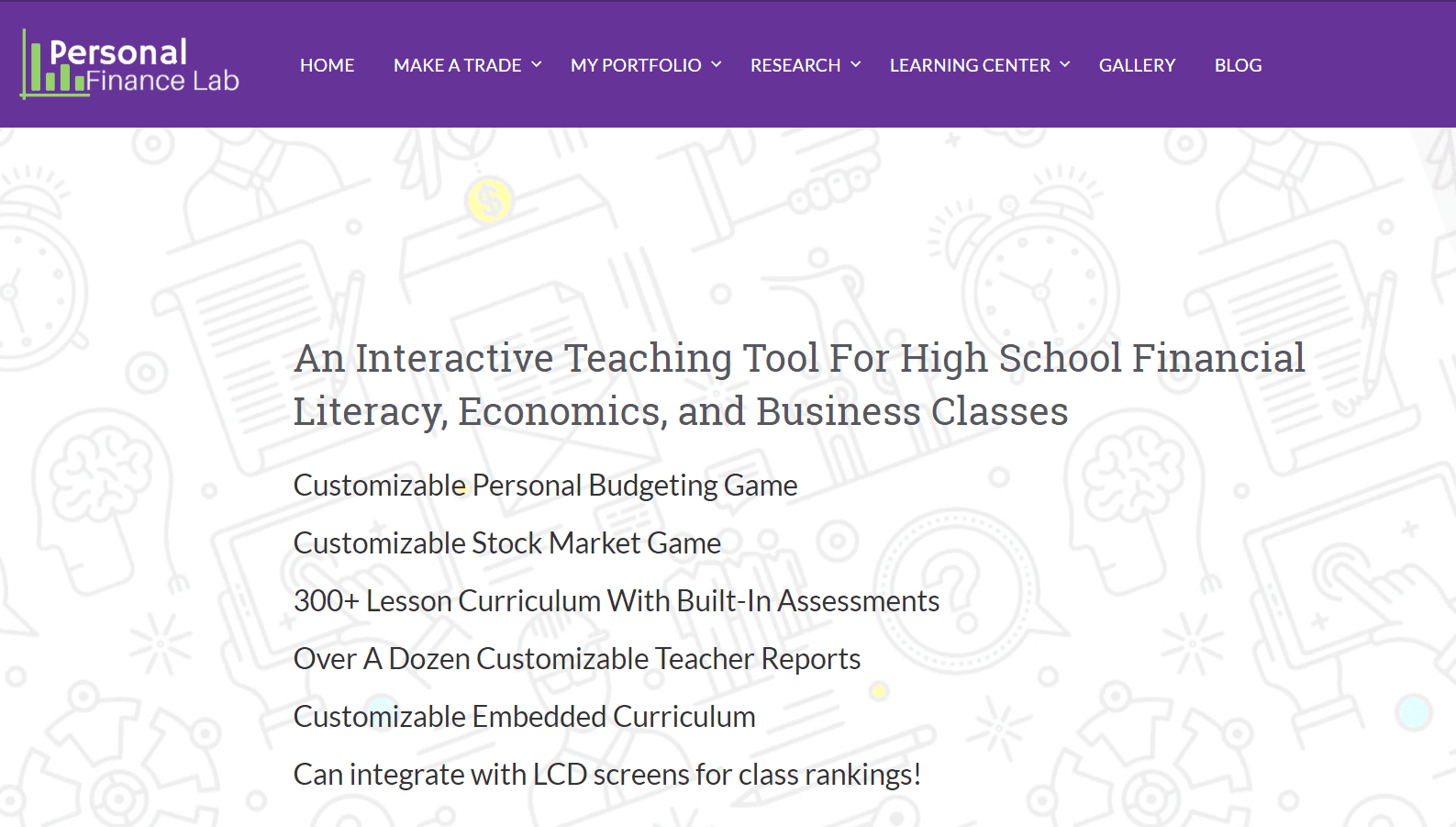 Personal Finance Lab seeks to introduce people to a stock trading at an early age. That said this is one of the best free stock game geared to high school students.
Personal Finance Lab provides a platform that comes with inbuilt lessons. Over 300 lessons are on offer touching on fields of finance, business, and economic standards.
The platform seeks to make it easier for students to apply concepts covered in class in the real world.
Similarly, students can trade U.S stocks in real-time. In addition to stock trading, students can finesse their trading skills around cryptos as well as options and futures.
Pros
Easy to navigate and understand the trading platform
Robust library of research materials and trading materials
Easy to make trades in real-time
Cons
Target audience is high school students
Ads on the website
SmartStocks
SmartStocks is a free virtual stock market simulation game that allows people to trade real stocks using virtual money.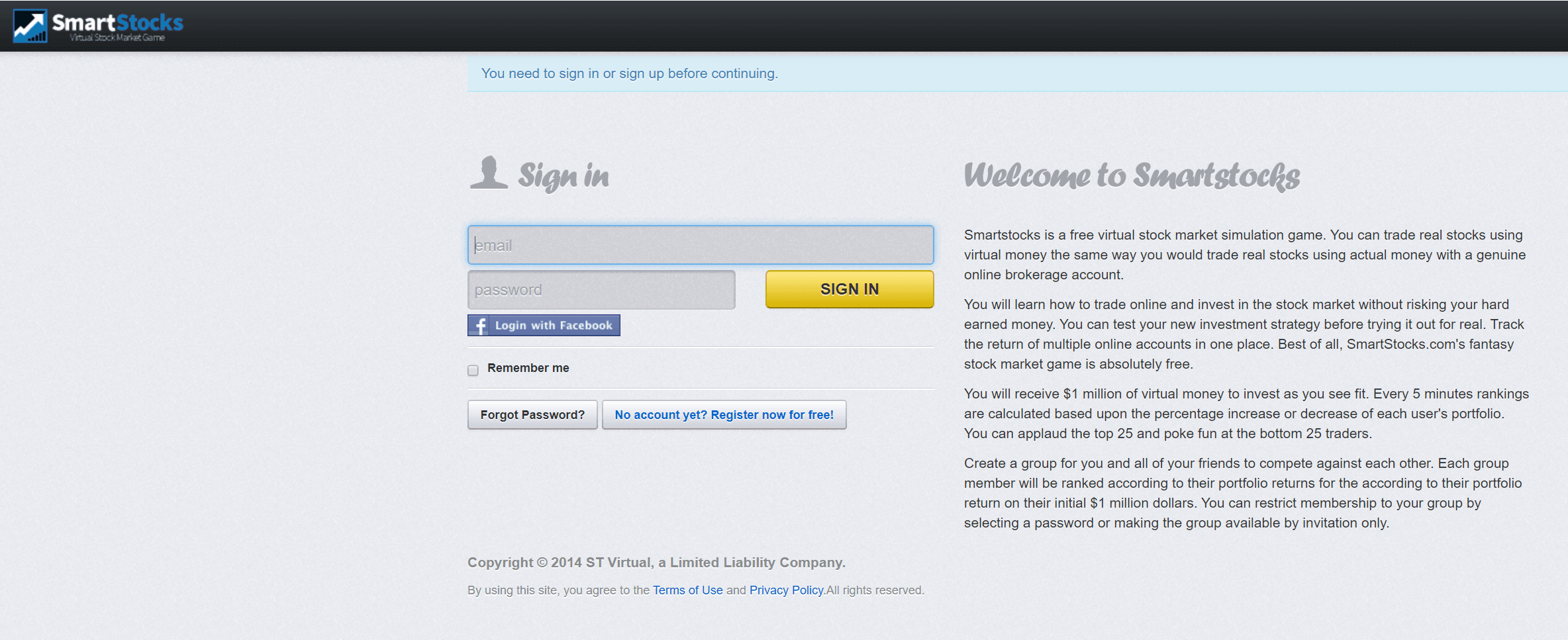 The platform is configured in a way that simplifies the process of trading online and investing in stocks without risking any hard-earned money.
SmartStocks comes with $1 million in virtual money sufficient for trading an array of stocks while testing different trading strategies.
The free stock market game ranks participants every five minutes based upon the percentage of increases or decreases in portfolio.
The rankings make it possible for participants to know how they are faring against other gamers.
With SmartStocks, it is also possible to create a contest group whereby a team can compete against themselves instead of competing against all people signed up on SmartStocks.
Members in a group can restrict membership by using a unique password that makes the group available only on invitation.
Pros
Ability to create a basic contest and restrict membership
Easy to use dropdown menus
Offers high investing limit of $1 million in virtual money
Cons
Not the best free stock games for people who want to learn more about investing
Does not offer sufficient material for learning about the stock market
No ability to trade mutual funds or other securities
Long sign up process
Conclusion
Free stock market games provide an easy way of honing trading skills before venturing into the world of trading real money in the highly competitive stock market.
Just like Forex Demo accounts, such platforms allow people to buy and sell stocks as well as commodities and futures using virtual money.
While some free stock market games are open to stock trading only, others offer an array of securities that one can trade as part of a contest.
The games also differ a great deal right from the virtual money on offers as well as trading tools and materials.
Tags: Best Stock Simulators, Best Stock Market Simulators, Best Virtual Stock Exchange, Best Online Trading Practice Platform, Best Free Stock Simulators.
---