MarketWatch Stock Market Game Review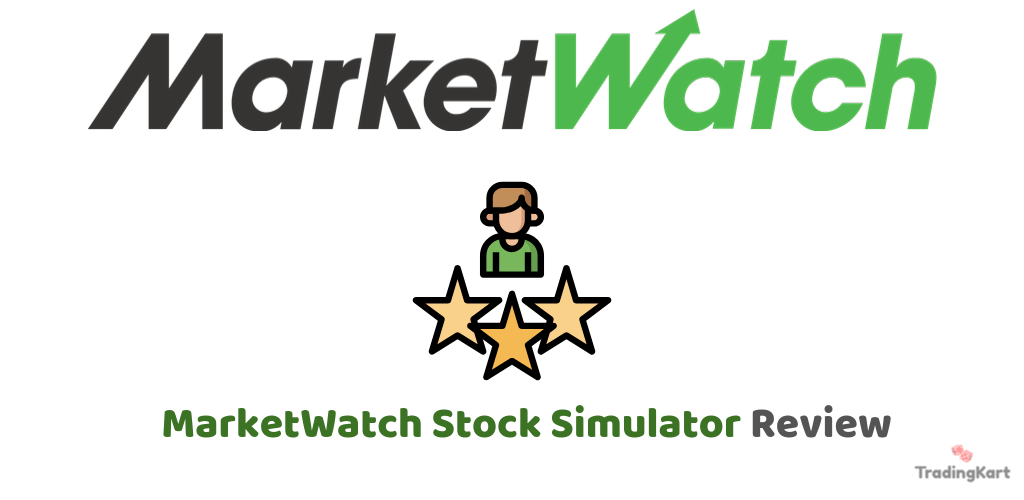 MarketWatch Stock Market Simulator is powered by DowJones and is a browser-based simulator.
It's a free platform and at the same time designed in a very convenient manner to learn the steps as well as strategies of stock market trading.
Overall Rating:  
3.5/5
Price:
Free
Key Takeaways:
A convenient and straightforward simulator.
Single-step registration process, easy to monitor watchlist, individual portfolio for every single game, a pool of news, quick trade updating, and comparatively easy navigation are the key features of this simulator.
However, we found some limitations in portfolio management and there is room for improvement in the stock research module.
Have a look to TradingKart Product - Free Stock Market Simulator
MarketWatch Stock Market Simulator Review is calculated through below points:
Registration Process
Rating:  4/5
Key Takeaway: Hassle-free registration process
The registration is very simple and will hardly take a minute. On successful completion of the registration, MarketWatch will give you $1000, 000 virtual cash and initial buying power will be $2000,000.
The Home page shows news and performance of various indices. Signing in with a Facebook account or Google account is also possible.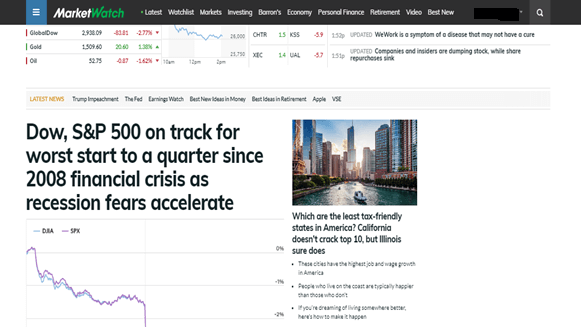 Pricing
Rating: 4/5
Key Takeaway: Absolutely free
Registration, joining a game, and creating a new game; everything is free here.
You can join a game of your choice and start your investment with $1mn of virtual cash given by MarketWatch.
Watchlist Functionality
Rating: 3.5/5
Key Takeaway: Uncomplicated and easy to monitor.
To track the companies of your choice, you can create a watchlist.
It shows details like volume, price range, etc. Column on the right side of the watchlist gives the latest news as well as news related to your watchlist companies.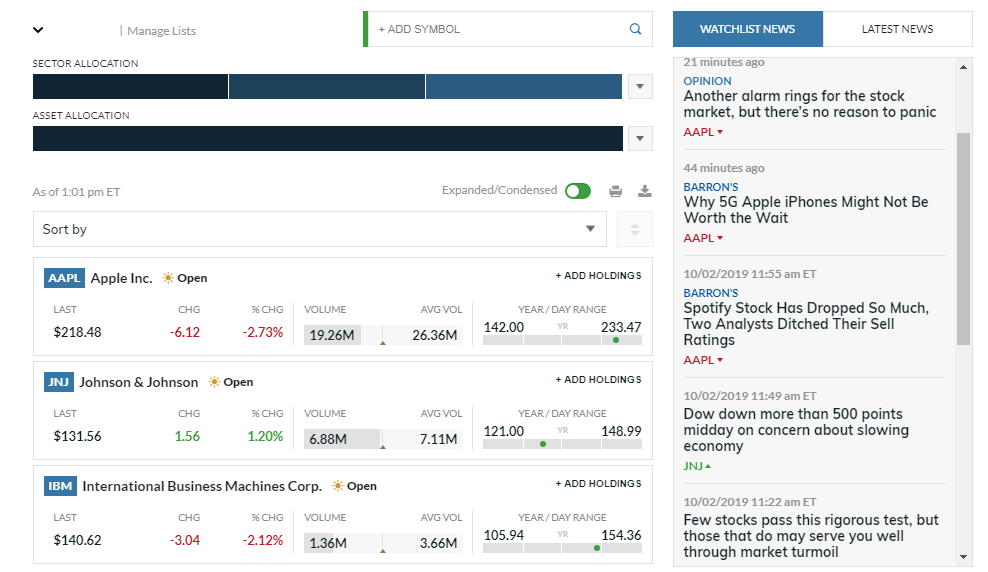 Contest / Game Features
Rating:  3/5
Key takeaway: Several ready-to-play games exist. One can also create a private game. The process of new game creation is a little bit lengthy.
Depending upon your choice, you can either join an existing game or create a new game- both private and public. While Creating a new game, MarketWatch will generate a URL of your specific game to share.
All the games will have a start as well as an end day. Apart from this, the customization option is available to add a few extra features in the new game. Create Game process consists of 4-steps which we found to be a little bit long and boring.
A well-written instruction guide is available to create a new game. To make your gaming experiences more interesting, you can send an invitation to your friends to join the game.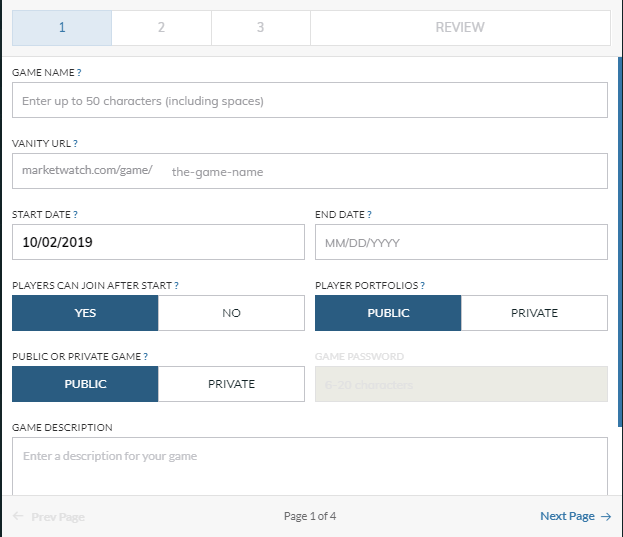 Portfolio Analytics
Rating: 2.5/5
Key takeaway: Tracking portfolio is easy but at the same time, few limitations do exist.
Kick-off your trading with the initial virtual cash given by the simulator.
Individual portfolio section is there for each game, where you can see the value of your portfolio moving up/down.
Detailed information about the price performance of each stock present in the portfolio as well as transaction history is also available. Your returns will be measured based on absolute return and risk-adjusted return.
Yet, few constraints are there.
The cash-in-hand must not exceed 20% of your portfolio at any time i.e. you can't sit on the sideline with your cash and
Each position you take in an asset must be a minimum of 5% of your asset and a maximum of 10% of your asset.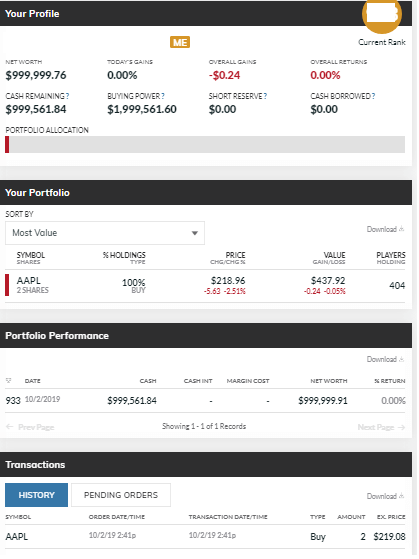 Trading Options
Rating: 3.5/5
Key Takeaway:  Data updates very fast and provides a real trading experience.
After selecting the game, you can start trading the stocks of your choice.
You can buy/sell the stocks at market price or can keep limit order or stock order. Even short sell and buy to cover options are available in this simulator. Day orders will expire if the stock/limit price not met.
However, Good Till Cancel (GTC) orders will remain until executed. The data will be updated immediately in your portfolio.
The facility to discuss the game with other participants is also available.
A familiar person can navigate easily through different available options. But a beginner may initially wander here and there in the simulator.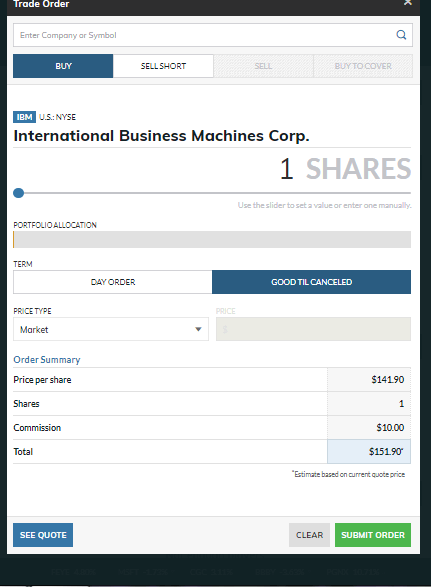 Leader Board
Rating:  3.5/5
Key takeaway: Revises quickly and own performance analysis is easy.
Rankings show the information about the leading players and you can find this for every active game in this simulator.
The ranks update continuously when the game is in progress and it also shows where you're standing in the game.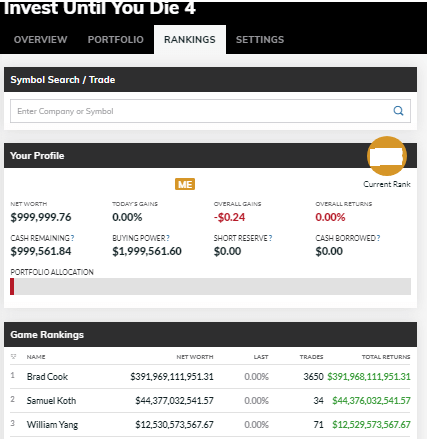 Stock Research Module
Rating:  3/5
Key Takeaway: Advanced chart and detailed financials are positives. But analyst estimation could have been more detail.
In the trade order window, there is a Quote button.
Clicking on this you'll get access to the pool of information about the company which you've selected. In the chart, you'll get more information than a basic chart.
It shows how the price moved on earning release date as well as on the record- date for the last four quarters (on a 1-year chart).
Financials will give last five years' performance details. In the Analyst Estimates, we found something missing and that was revenue and profit estimation for the next year.
In this simulator, you'll get the options data.
User Interface
Rating:  3.5/5
Key Takeaway: It can be more user-friendly. A beginner may find difficulty initially.
Switching from one game to another is easy.
A person familiar with the features of this simulator can navigate smoothly through different options while a newbie may find initial difficulties.
Education Material
Rating: 2.5/5
Key Takeaway: Focused more on news than educational resources
This simulator is more focused on news than educational material.
An instruction manual for creating a game and another one for starting & tracking the investments are all we found under Educational Resources.
But an investor can use the news articles available here to increase the knowledge of industries as well as of enterprises.
Other Features
Ranking:  3.5/5
Barron's on MarketWatch gives you access to the article published in Barron's.
There are separate sections for news articles of personal finance, economy, and retirement (this gives news and advises on retirement).
If you're not into reading and more fascinated by the videos, then they've got a collection of videos of the latest news.
This is all about the review of  "MarketWatch Stock Market Simulator". You might be interest in -
Best Stock Market Simulators for United States Market
---