HowTheMarketWorks Stock Market Game Review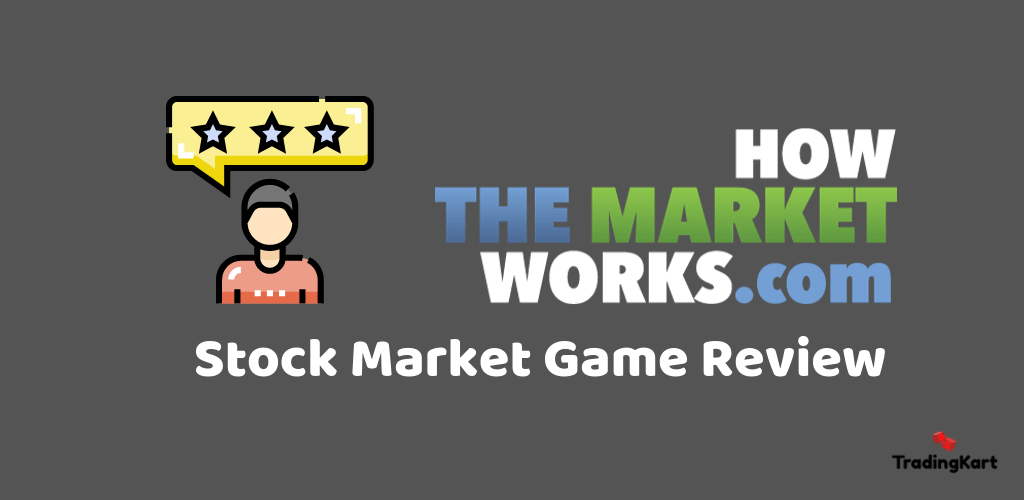 Are you a newbie in the streets of the stock market?  Are you a student/ instructor looking to build/polish your investment knowledge?
If your answer is 'yes' for these questions, then HowTheMarketWorks is the right place for you to learn the basics of trading from stocks to bonds.
HowTheMarketWorks serves as an education center where lessons are classified into beginners and advanced.
You can also find separate sections for books and tools here.  There is a special section for the instructors as well in this simulator.
HowTheMarketWorks vs TradingKart
Overall Rating  
3/5
Price
Registration and joining games are free. However, to get access to the online courses you need to lighten your wallet.
Key Takeaways
It's a stock game built specifically for the classroom. In our review of HowTheMarketWorks, we found the many advantages and few drawbacks.
The advantages are registration sans difficulties, provision to maintain different watchlists and portfolios for different asset classes, quick execution of trades, and good educational module for the beginners.
On the other hand, the drawbacks are: it asks you money for joining online courses, time-consuming process for contest creation, and no trading allowed in penny stocks.
Longer waiting period for the pages and confusing stock research modules are other disadvantages of this simulator.
HowTheMarketWorks Stock Simulator Review is calculated through below points:
Registration Process
Rating:  4/5
Key Takeaway:  Simple and free registration process.
Registration is free and was easy. If you're not an instructor, then you can select the virtual cash of your choice like $10,000, $50,000, $100,000 etc.
Otherwise, How The Market Works gives $100,000 virtual cash for instructor's challenge.  
You can sign in with your Google account as well as with your Facebook account.

Pricing
Rating: 2.5/5
Key Takeaway: Most of the features are free but online courses hold price tags.
Contests and basic resources are fee-of-cost. But online courses, designed to learn and understand the advanced level of trading in various asset classes are not free.
However, the members of HowTheMarketWorks will get 20% off on the Investing 101 online courses (both Investing 101 and HowTheMarketWorks are powered by Stock-Track).
Watchlist Functionality
Rating: 3/5
Key Takeaway:  Provisions to maintain different watchlists for different asset classes.
Creating a watchlist is easy and it allows you to maintain different watchlists for different asset classes.
But due to numerous advertisements flashing on the screen at the same time, one may find it difficult to locate where the watchlist is given in the site.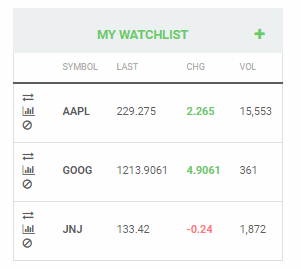 Contest / Game Features
Rating: 3/5
Key takeaway: New contest creation is very time consuming and mainly designed for the instructors to give assignments to students.
To start the game, you can either join a contest or create a contest.
Apart from this, HowTheMarketWorks runs monthly trading contests.
On winning the monthly contests, you can get cash prizes of $500 and more. These contests will help you to find out where your trading strategies are currently standing. Yet, the steps involved in creating a new game are very lengthy.
A lot of information needs to be filled while creating your contest. These contests are useful for the teachers/ professors to give assignments to the students.
You can share your contest registration via Facebook as well as Twitter and there are various ways to invite users to your contest.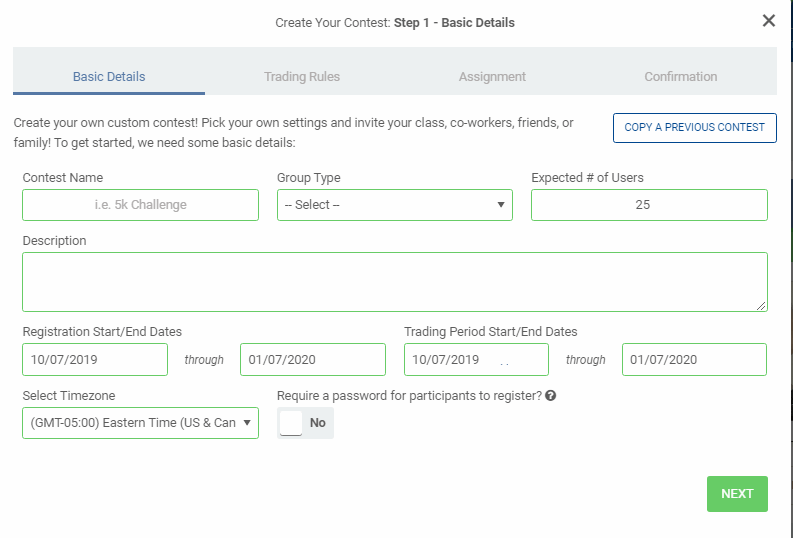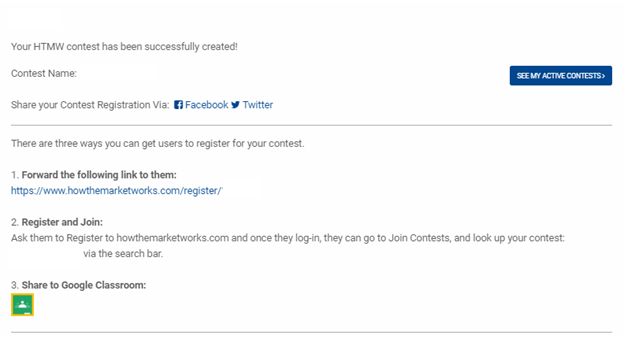 Trading Options
Rating: 2.5 /5
Key Takeaway: Trading on stocks with value below $5 is not allowed
Trades got executed immediately.  But HowTheMarketWorks will not allow to buy/short a stock with value less than $5.
For stocks with value above $5, you can conduct most of the transactions that are available in the stock market.
You can trade the stocks of the US Markets as well as the Toronto in HowTheMarketWorks.


Portfolio Analytics
Rating:  3.5/5
Key takeaway: You can maintain a separate portfolio for different asset classes.
Once the trade gets executed, then in no-time your portfolio gets updated. Provision to have a separate portfolio for stocks/ETFs and mutual funds are available in this simulator.
Even provision to reset the portfolio is also available. You can access the graphical representation of the portfolio as well.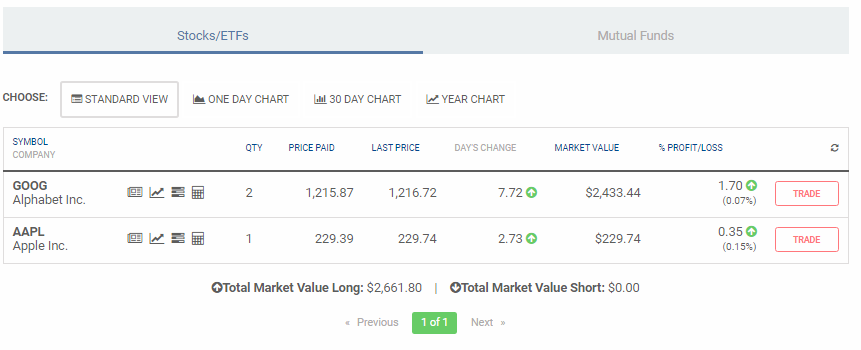 Leader Board
Rating:  3.5/5
Key takeaway: Leader board for each game is available
Ranking section shows the leader board of the active game. You can see the rankings of the week/month/overall and can also compare your performance.
Stock Research Module
Rating:  2/5
Key Takeaway:  Long way to go
Stock research models are confusing, especially if you are a beginner.
We couldn't find any ratios in the fundamental part. However, the financials of last five years are given. Charts and resources are very basic.
Detailed analyst recommendations are given. But here also a newbie may find difficulties in decoding these concepts.
User Interface
Rating:  2.5/5
Key Takeaway: Pages take a lot of time to load and promotions may distract you.
Each page takes a lot of time to load during the trading hours. Various advertisements flashing on the screen makes the trading experience even worse.
These promotions may even distract the traders. Though, navigation during after-hours was comparatively easy.
Education Material
Rating:  2.5/5
Key Takeaway: Definitions of financial terms are good. Online courses are not free.
It provides information to begin and improve but they are not very comprehensive. The definitions of financial terms are good. Yet, most information you can find elsewhere.  
Online courses are available to understand more about stocks, bonds, options and ETFs.
Other Features
Ranking:  3.5/5
Teacher resources is something we found plus about this simulator.
It helps the instructors to craft lesson plans and create real-time trading competitions to fit their class goals.  
Even webinars are also available to improve the knowledge of the instructors. Instructors can add required reading and other assignments in their contests.
---