Stock Trading with Virtual Money (Using Stock Simulators)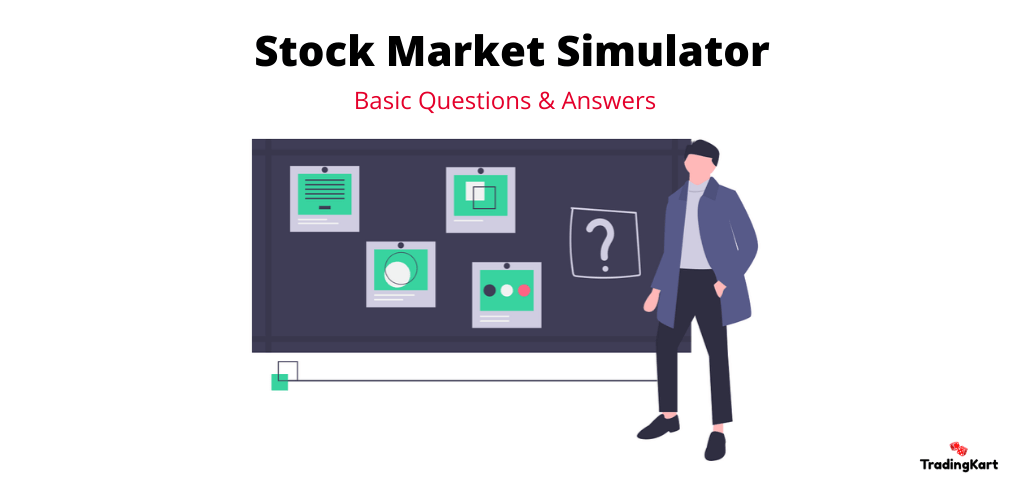 What is the stock simulator?
A Stock Simulator is a virtual stock exchange where you can trade stocks with virtual money. Stock simulators are applications that are designed to learn how the stock market works. In a simulator, you can practice trading of stock, derivatives, and commodities without risking your real money. You can also try different strategies for trading. TradingKart is a well-designed and one of the best simulators available today.
What are the different types of simulators?
Two types of simulators are:
Financial Simulators
Fantasy Simulators
Financial simulators imitate the real stock exchanges. In this type of simulators, the players trade with virtual money allotted by the providers. Just like a real trading platform, the simulators allow the users to create a watchlist and have a portfolio. To give a real-time experience, most of the simulators charge broker fees and commissions.
Fantasy simulators allow the players to trade those items that never trade in an actual exchange like movies, television shows, etc. They are peculiar and unrealistic. Terror Xchange, The Hollywood Stock Exchange, etc. are a few famous fantasy exchanges. Most of the fantasy exchanges charge real money from the users.
Are simulators free or paid?
Most of the stock simulators are free while there are a few which charge the users for joining or starting a game. The users need to pay real money to play in these simulators.
What are the best stock market simulators?
TradingKart
Market Watch
Wall Street Survivor
Investopedia
How the Market Works
Virtual Stock Exchange
How to choose a stock market simulator?
Factors you need to consider while selecting a stock market simulator are:
The trading techniques available in the simulators
Free or paid
Watchlist functionality and portfolio analytics
Accuracy
User interface
What does the stock market game teach?
The stock market game helps budding investors to practice trading techniques. It helps those who are already into the game to test out new strategies, rather than trying them in the real platform.
Who can use the simulator?
The students usually use the stock market simulators. However, there is no age bar in using a simulator. Anyone who wishes to practice trading can use it.
What is a mock stock game?
A mock stock game is a practicing tool that helps you to understand the trading process without losing any money, and it gives almost the same experience that a real trading platform can provide.
What are the strategies for winning a mock stock game?
Various strategies for winning a stock market games are:
Pick good quality stocks. Check the fundamental of the stocks before investing in them. Most of the simulators provide the fundamental details of the companies in the research section.
Have a diversified portfolio. Diversification helps you to spread the risk and reduce volatility. Diversification means investing your money in various financial assets like stocks, bonds, mutual funds, etc.  and thereby make a return higher than the benchmark.
Cut your losses whenever necessary. In the stock market, it's prevalent that the stock price corrects significantly due to negative reasons like bankruptcy or poor corporate governance. In such situations, the price of these stocks may find it difficult to go back to its previous highs. In such circumstances, you can sell the stock quickly and can make your losses small.
Avoid impulsive buying and selling. Also, avoid stock tips by the business channels and those available on social media.
Keep yourself mindful of the happenings in the corporate world. Read business dailies and business magazines regularly.
What are the advanced strategies to include while trading in a simulator?
Leveraging, short selling, derivatives trading, etc. are the advanced strategies that you can include while trading in a simulator.
What is paper trading?
Paper trading or virtual trading is the method through which you can practice stock trading in the simulator without any monetary losses.
What is the difference between paper trading and stock market simulator?
| | | |
| --- | --- | --- |
| Basis | Live Trading | Paper Trading |
| Transaction | Real money is involved in live trading. So, the risk of losing money is always there. | Here you trade with virtual money. So, there is no risk of losing money. |
| Emotions | Fear and greed are part of live trading. When the stock price goes down, the fear of losing money, and when it moves up, the desire to earn more is always associated with live trading. These factors can lead to wrong decision makings. | Emotions have comparatively less role or no role in virtual trading, as practically you are not going to lose or gain through virtual money. |
| Risk | The risk of losing your hard earned money is always there. So you need to keep a track of the shares in your portfolio. | Risk is equivalent to zero due to the nature of money involved in this. People rarely take paper trading seriously. |
| Data Accuracy | In live trading, data and trades execute immediately. | In most of the simulators, there will be a time delay in the data feeds, i.e., the trades may not execute immediately. However, there are a few simulators, like TradingKart, that give real-time pricing. |
What are the pros and cons of using a stock market simulator?
Pros
Simulators help you trade without the fear of losing money. They help you to manage your emotions.
Simulators are an excellent platform to practice trading and at the same time, try various strategies.
Simulators give an idea about how the stock market works. It also provides a clear picture of the commissions as well as fees you need to pay while executing a trade.
Cons
People rarely take simulators seriously and often consider as a game.
Almost all simulators ignore the tax part. While trading in a real platform, you need to pay tax for all your gains.
Advanced trading techniques require a lot of practice while using a real platform. While in a simulator, all these techniques seem very easy.
Is margin trading possible in a simulator?
Yes. Most of the simulators allow margin trading.
Is trading in penny stocks allowed in all simulators?
There are a few simulators that don't allow trading in penny stocks. Trading in penny stock involves a lot of risks as the trading volume is really thin for these stocks. The investors may find it challenging to offload these shares.
---