Deal Flow Management Software for Private Equity Firms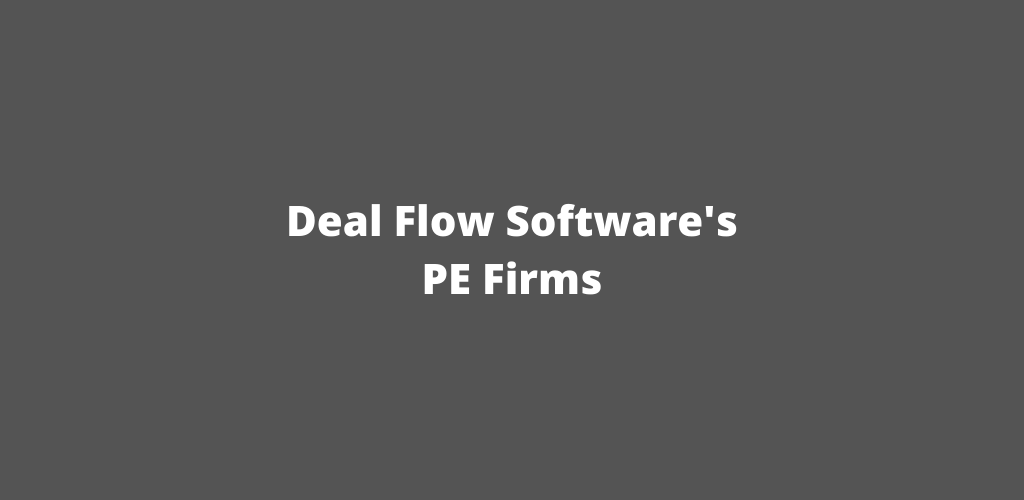 The Private Equity space has been witnessing a vigorous competition for some time. In such a circumstance, to make the most fruitful deals, various teams of private equity firms should collaborate and work closely. It's equally essential to monitor the deals at multiple stages to make them successful.
A private equity deal flow management software helps the firms to meet the deal-making challenges easier. It analyses the quality of the deal flow in terms of various parameters. This software makes sure that even minor data is available to all the teams involved in the deal-making. After all, the realization of the fund mainly depends upon the quality of the deal flow.
Before making a single deal, PE firms analyze thousands of options. The deals that fructify are solely responsible for the success of the funds. So the PE companies must scan the deal pipelines smartly and don't let the most promising ones slip through the crack. For all these processes, until recently, the PE firms were depending either on sales CRM or Excel. The limitations of both these options impacted the performance of the PE funds negatively.
A few advantages of using deal flow management software are:
A deal flow management software is easy to set up as well as easy-to-use.
The functions are designed so skillfully in deal flow management software that the firms can start using them without a training session.
With deal flow management software, the user can view all relevant data of a prospective deal on one screen, which makes the evaluation process straightforward and the deal-making faster.
Deal flow management software makes scheduling and automatic distribution of pipeline reporting a simple affair.
A smart deal flow management software integrates external data sources like Google News, Capital IQ, LinkedIn, Yahoo! Finance, etc. and allows the investment team to view relevant information sans leaving the application. It results in effective data integration and efficient decision making.
With the help of deal flow management software, sharing the data as well as large sets of the pipeline of deals is smooth among the teams that are sitting miles apart and in different time zones. It helps to eliminate duplication and, thereby, time.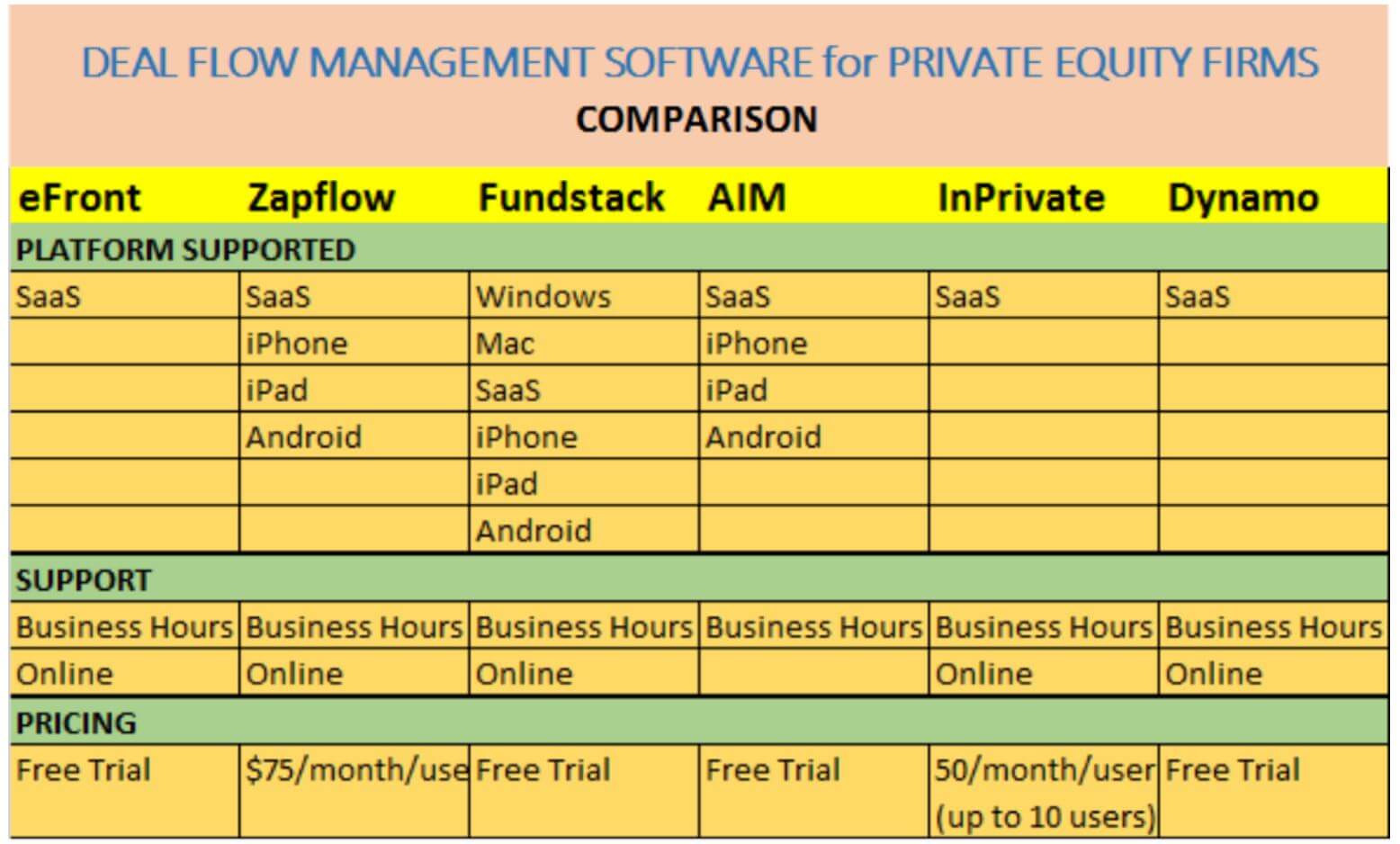 Leading Deal Flow Management Software
eFront
Fundstack
Zapflow
Altiva
InPrivate
Dynamo
eFront
eFront, a leading provider of private equity software for direct and indirect investments that has more than two decades of experience, helps large- and mid-size PE firms to manage complex investment structures, analyze market, and governing elements. eFront Office aids the PE firms to improve the front office operations like fundraising and deal flow management at the same time augmenting the investor engagements.
Features of eFront Office
The dynamic dashboards of eFront facilitate its users to manage deal flow and fundraising pipelines in a very organized way so that they never miss out on any opportunity.
Analyze the data in terms of various parameters like sectors, the stage of the businesses, investor type, etc.
High level of customization
Centralized information storage prevents the information gap between the teams
Direct Microsoft Outlook plugin
Smooth integration of the different stages of the investment cycle
Fundstack
Exclusively designed for private equity firms and venture capitals, Fundstack helps the investment teams to make competent decisions at various stages of deal flow, i.e., from initial contact to post-investment support.
Features of Fundstack
A fully customizable software package
Fundstack allows easy integration with the existing tools of users like Google Chrome & Gmail, email, iOS, Zapier, MS Excel, and Fundstack API.
With Fundstack, tracking the performance of the companies is straightforward and spontaneous.
Easy navigation of data between the teams
A dedicated page for each company helps the investment team to gather data swiftly in the required format
Fundstack uses a proprietary algorithm to analyze which team member is most useful for a deal with the help of the parameters like communication frequency, response time, and tone.
Fundstack's enrichment engine collects all data from the contacts and thus omits manual data entry.
Automatic data enhancement from third-party data sources for companies and relationships
Fantastic data migration from other providers like Excel, Salesforce, etc. in a short period. Fundstack is capable enough to handle large datasets.
Impressive customer support and step-by-step guidance at each stage
Zapflow
The deal flow management software of Zapflow aids the firms involved in the business of private equity and venture capital in the critical process of deal-making. It also helps the firms to bring together the team members, as well as advisors, and make them more productive.
Features of Zapflow
Fully customizable and robust tools for deal flow management
Easy screening of opportunities that helps the teams to save time and grow market insight
Central storage makes sure that all the members of various teams can access the data as well as emails at anytime from anywhere.
Highly configurable user rights
Zapflow helps the users to focus only on relevant data through enhanced search and filter capabilities.
Automated data entry
Elimination of duplicate data at the source
Easy creation of KPI (Key Performance Indicators) reporting templates for the portfolio companies to enter their data.
Zapflow offers structured online reporting templates, which makes portfolio company reporting more effective and efficient and thereby, save a lot of time in every reporting cycle.
Altiva
Altiva's AIM is designed for private equity and family businesses to equip better control, efficiency, clarity, and quality to the deal-making. This feature-rich product is easy to set up and adopt.
Features of AIM
Designed to track the entire life cycle of investments.
The customizable checklist provides a straightforward evaluation of different stages of an investment.
Rich reports and dashboards offer more insight to deal flow sources.
For accurate forecasting, AIM uses geographical and sectorial analysis as well as valuation trends.
Through a centralized database, the complete information is available to each team member at any time and thereby providing an efficient and intuitive solution for fundraising, portfolio management, etc.
With AIM, precise tracking of investment opportunities is possible.
InPrivate
The deal flow software on InPrivate helps the PE firms to track the investment process for each deal, manage the documents, and monitor the budget,
Features of InPrivate:
Add unlimited contacts, and for each contact, attach relevant information like companies, documents, history of the action, etc.
Smooth synchronization of contacts with the users
Import contacts from CSV files and documents from Dropbox
Full-text search
Upload multiple documents related to deals, budgets, etc. with drag & drop
Extensive labeling of documents for precise classification
Filter the deals in terms of stages, tags, and types
Countless updates of each deal with the time spent on every activity.
View the entire activity log for each deal
Make invoice depend on activities and costs
Unlimited email alerts for the task assignees
Data analysis with the help of charts, geographical distribution, etc. and also change the timeframes as well as the stages to get in-depth data.
Dynamo
Through its deal management software, Dynamo helps private equity firms' to centralize their deal-making tasks and to make optimal decisions.
Features of InPrivate:
Excellent management of the data and the document
With Dynamo, sharing, reviewing as well as editing the reports is swift and smooth.
Easy to monitor the progress of the deal
Smooth integration with MS Office and Outlook
Tracking of multiple deals within a single firm is possible through the deal flow management of Dynamo.
Dynamo's DIF (Data Integration Framework) and open API helps to aggregate research from third party providers.
Follow-up reminders and automated task management are enabled.
Consolidation of portfolio performance data and documents through secure web forms
Easy integration with third-party data sources like Capital IQ, Preqin, and PitchBook.
Final Thoughts
To improve operational efficiency, private equity firms are currently focusing on technology transformation. The role of technology is increasing every year in the PE space.
Technology transformation helps PE firms to meet the demands of the LPs at a faster pace and also to alleviate margin erosion and stand tall in the competition. But before choosing any software, the firms should understand their areas of difficulties and even their preferences.
Only the right software with the firm's must-have features can help the PEs to meet their business objectives. A customized solution can be more adaptable and competitive than a box solution.
---