The Top 10 ESG Consulting Companies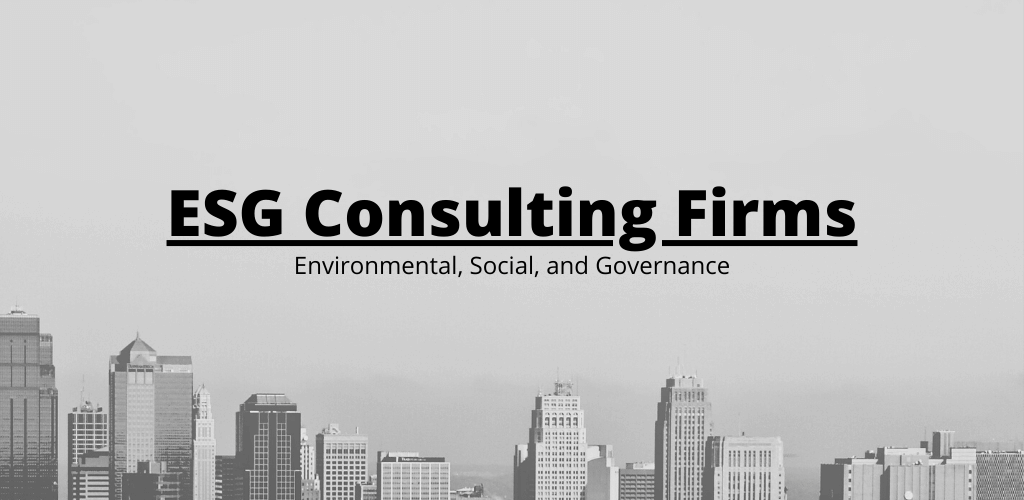 Once upon a time, companies used environmental, social, and governance issues (ESG) as a publicity stunt or way to prevent large scale protests from activist groups.
Fast forward to 2020, and it is obvious that things have changed. Companies that want to stay successful now must ensure that ESG issues are a top priority.
Investors will have no problem sending the message should they feel this is not happening. It's for that reason that big business looks to top ESG Consultants regularly when dealing with these kinds of matters.
ESG Consultants help companies determine what actions may impact them negatively as it pertains to environmental, social, and governance issues. Not only does this help improve a company's image, but it's also good for business.
A report by the US SIF Foundation showed that investment in companies that were dedicated to ESG related issues had seen exponential growth since 1995, with over 8 trillion dollars invested in 2016.
Another important point to remember is millennial are increasingly concerned with ethical and environmental business practices. So, as more millennial leave college and enter the workforce, it's natural that they would search for employers with strong ESG practices. In turn, these companies can pick and choose from a larger field of applicants, selecting the most qualified individuals to add to their team.
So, where do companies begin when searching for an ESG investing consulting firm? There are many ESG consultants to choose from, but some industry leaders stand out from the pack.
Here are 10 of the Best ESG Consulting Firms and what they bring to the table:
Ernst & Young (EY)
KKS Advisors
Advisian
Allianz Global Corporate & Specialty (AGCS)
GreenCo Sustainability Consultants
KPMG
The Bank of New York (BNY) Mellon
Broadridge Financial Solutions
Inrate AG
Mercer
Sancroft
Ernst & Young Global Limited, doing business as EY, is a multinational professional services network with headquarters in London, England. EY is one of the largest professional services networks in the world. Along with Deloitte, KPMG and PricewaterhouseCoopers, it is considered one of the Big Four accounting firms. It primarily provides assurance (which includes financial audit), tax, consulting and advisory services to its clients.
EY is committed to making business work for sustainability and making sustainability work for business.
How EY can help ?
Climate change and energy service
Environment, health and safety services
Sustainability and supply chain advisory
Sustainability and ESG services
With offices all over the world, KKS Advisors is a big ESG Advisory Service Provider. KKS' main strategy for clients centers around sustainability, drastically reducing the negative impact, all the while maximizing profits.
Through research and analytics, KKS aim to teach their clients which actions to take to become more sustainable and profitable.
KKS offers workshops to help companies understand the entire scope of the ESG forum. KKS helps companies to combine sustainability at the highest levels by implementing proven methods and practices that result in improved sustainability performance.
Normally, a first-time company entering this transition would have little knowledge of how to carry out these tasks, but KKS works closely with the boards to make the transition as efficient as possible.
Here are some of the various services KKS Advisors offers to their clients:
Corporate Governance
Corporate Reporting
Sustainable Investing
Impact Investing
Specialist Research
Convening & Facilitation
KKS strongly believes that to shape the future in a positive way, business decisions and ESG metrics must be taken into account equally. With the constant implementation of legislative changes, a business must do exactly that to keep their operation running.
KKS Advisors aim to help their clients create a sustainable society for the world and stay on the positive side of the balance books.
Advisian is a branch of their bigger parent company Worley, which provides consulting services to energy sectors as well as process industries.
Advisian is another top ESG consultant firm specializing in environmental sustainability. This group of ESG consultants helps companies deal with the ever-changing conditions the planet and global economy experience.
Managing energy security, new technologies, and their impact on climate change is the basis of the Advisians business model. Where clients see challenges, Advisian prides itself on seeing opportunities.
Advisian has clients in over 25 countries, making them a top ESG investing consulting firm.
Advisian offers a wide range of services in the following sectors:
Chemicals
Hydrocarbons
Infrastructure
Minerals and metals
Allianz covers a wide range of services about many issues in the business world. They are a global leader in consulting and do have a department devoted to ESG related issues.
Allianz ESG consultants help clients mitigate ESG risks to help protect them from legal problems and developing a bad reputation in the business community.
AGCS helps clients assess risks that could negatively impact their social reputation as well as environmental impact.
A detailed evaluation is conducted regarding a company's ESG portfolio, and from that point, solutions to problems are implemented. Much of the time, ESG principles are not clear to companies taking the first step in developing their plan.
AGSC uses third party ESG info to help clients better understand the process of how addressing these important issues is necessary to ensure their business operates successfully.
As the name probably implies, GreenCo centers its focus on environmental sustainability. GreenCo services over 50 companies in China, Singapore, and Hong Kong, as well as a modest presence in Europe and South America.
The team is made up of Certified Public Accounts as well as Environmental Consultants. They are one of the top ESG consultants in these highly populated countries working to create environmental and energy sustainability in the following industries:
Property Development and Management
Retail
Trading
Agriculture
Manufacturing
Industrial Production
GreenCo works with clients to help meet the demands of shareholders when it comes to improving environmental impact and social development. While these changes are implemented, GreenCo keeps a sharp eye on business development to ensure that profits are not affected and that clients continue to turn a profit over the long term.
KPMG is a well known multinational company that like Allianz, has a branch that is an ESG advisory service provider.
KPMG's ESG consultants work with clients by analyzing what their investors are asking for and help them to meet those expectations. Improving investor ESG communication is also an important service KPMG consultant provide, and as progress is made, companies can see where they compare to competitors also making the same changes.
BNY Mellon is a global investment company- the number one ranked depository institution as it pertains to capital raising, trading values, and trading volumes.
Recognizing the ever-growing importance of ESG sustainability, BNY Mellon has partnered with Sustainalytics, a leading ESG research, to offer ESG data and services to their depository clients.
BNY Mellon knows that investors are now taking into account how ESG issues can affect the value of assets they choose to invest in. Through the implementation of BNY Mellon ESG Analytics, investors now have a rather large keyhole they can peak through, to better analyze how ESG metrics impact their portfolios.
They are the first depository bank to take this step, and it is a clear indication that investors are prioritizing ESG issues across many industries.
Broadridge is a corporate giant in the United States and Worldwide, pulling in billions in revenue each year. Realizing the ever-growing market for ESG conscious business, Broadridge team up with a sustainable investment and ESG advisor service provider called Third Economy, to offer a variety of services to help clients establish a strong ESG blueprint.
The services include:
Assessment and Benchmarking
Project Management
ESG Data and Systems
Reporting
Policy Development
Proxy Voting and Engagement
Inrate AG is a company based out of Switzerland and offers a wide range of ESG investment services. Their clients vary between banks, insurance companies, pension funds, Non-Governmental Organisations (NGOs) and foundations.
The main focus of Inrate's ESG Consultants is to find the best sustainable financial investments for their clients. They also put a strong emphasis on environmental sustainability.
Clearly, companies taking the first step in integrating an ESG framework into their operation would need a strong helping hand to understand the appropriate steps to meet investor expectations.
Inrate ESG investing consulting firm provides clients a strong support network with the following features:
Workshops/Focus groups for managers, committees and financial analysts
Development and prioritizing sustainability principles
Choosing the right investments based on ESG principles and investment regulations
Help companies take into account ESG ratings and ESG indicators throughout the entire investment process
Increase and improve communication with shareholders on progress
Mercer is another consulting giant that has received praise and accolades for its strong focus on ESG related performance.
They have expanded their ESG consultants' team over the past few years, adding to a division of the company called the "Global Responsible Investment Team."
Mercer's annual revenue is over $13 billion, and they span across the globe operation in over 130 countries.
Mercer begins building an ESG strategy for its clients by first deciding on an accurate ESG rating.
This rating is accompanied by a standard letter grade, and then other factors pertinent to the ESG strategy are taken into account. Four ratings range from ESG1 (the best possible rating) to ESG4 (the worst possible rating). In order for a strategy to achieve a rating of ESG1, Mercer's team must be able to provide evidence that they have combined ESG Factors along with active ownership in some or all of the following factors:
Idea Creation
Construction of Portfolios
Implementation
Strong commitment to ESG issues by management on all levels
A rating of ESG4 means none of these factors were incorporated into the strategy. It's important to note that Mercer does not award ESG1 and ESG2 ratings easily, implying that there is still much improvement that can and should be made across all industries.
Sancroft helps companies across the world, improve and reduce their carbon footprint as well as their ethical and social issues. As time passes, environmental challenges grow more complicated, and solutions must be found in order for companies to meet investor expectations.
Sancroft helps clients achieve this in a variety of ways. Pollution prevention is one of the main priorities and obvious ways a company can reduce its carbon footprint.
Sancroft also analyzes which materials their clients purchase, whether it be minerals, water, or energy, to help make environmentally conscious changes to reduce costs but still maintain strong business operation.
Waste analysis is another important avenue in which Sancroft aims to minimize and, in some cases, turn into a renewable source. The amount of waste a company produces can say a lot about how efficient their business model is. In some cases, companies are not utilizing optimal disposal methods, which in turn increases costs and their environmental impact.
Sancroft identifies these problems and the best ways to solve them.
Sometimes just keeping up with changes means you're already falling behind. Sancroft works to stay ahead of the curve and potential legislative changes that could potentially cripple a company's revenue potential.
Adding It All Up
With over 8 trillion dollars in ESG investment annually, it's clear that running a successful business in today's business climate means prioritizing a lot more than just the bottom line. Hiring an ESG advisory service provider not only assures that your company is profitable, but that it is profitable while at the same time ethically sound.
---