How to Use Stock Market Game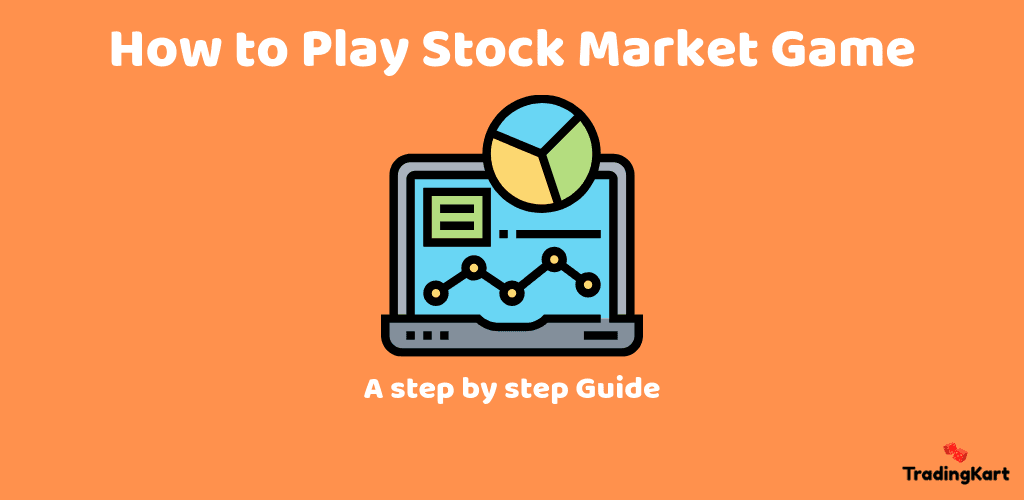 Using stock market simulator is as easy as buying or selling some cool stuff on the web. This article explains some basic fundamentals to use the simulator in a better way to get maximum output.
See - A Brief History of Stock Market Game
We are summarizing the entire tradingkart simulation game into below simple steps -
Create Account
Do stock research
Place buy & sell orders
Analyze stock performance
Learn diversifying techniques
Place advanced trades (Limit / Stop)
Create an account

To get benefits of using the market game you first need to create an account through tradingkart signup page.
As soon as your account is created you will get $1mm as virtual cash to play stock market game.
The good thing about tradingkart simulation is that there are no restrictions on the trading strategy as you will see on other stock market game. It allows you to trade on common stocks & exchange tradable funds with penny stocks as well.
The reason behind no restriction is that when you enter the real trading environment you have all options available. So why don't be on the simulation?
Create Account Screen -
Stock Research
Now since you have created an account you entered into the simulation game. You will see "stock research" or "trade (buy/ sell)" menu on your account.
Here you will see ~5000+ stocks & ETF's which are available for trading. You can see the latest price, past performance, market cap, sectors and other information on the stock table.
If you need detailed analysis on the particular stock then you can click on the stock and it will lead you the detailed analysis page. You can see the historical price chart and key statistic there.
It also provides current news around the stock so that you can get to know the current position about the company.
Use your trading strategy and finance knowledge to determine the best-suited stocks for your portfolio. Once you confirmed on your analysis and ready to buy then you can simply click on the buy button and provides the quantity you need.
Buy and sell interface are very simple with one click approach so that you don't west time on technical things and focus on your research works.
Stock Research Screen -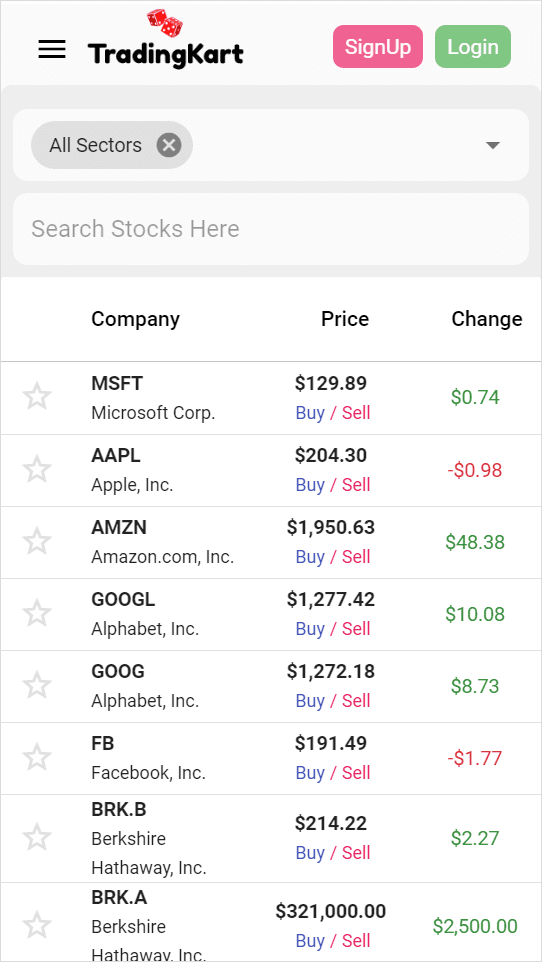 Buy & Sell
As on your portfolio against every stock, you see buy and sell button. You can click and place your trade order. Buying and Selling interface on the tradingkart virtual exchange is very simple to avoid any technical or multistep approach.
There are 3 options available for buy and sell.
Market
Limit
Stop
You can place your orders on market price when the US markets are open. If you select market option while buying or selling then your trade will be executed on realtime against the real US market price of that stock.
Limit & Stop types are advanced trading types which allow some automated trading features based on your ask bid for buying and selling.
Once your order executed successfully, based on your trade (buy or sell) your cash balance and stock balance is adjusted.
You cannot buy more than the available cash you have.
On the portfolio page, you can see the breakout of your cash balance and stock balance with a quick statistic about your portfolio performance.
Buy / Sell Interface -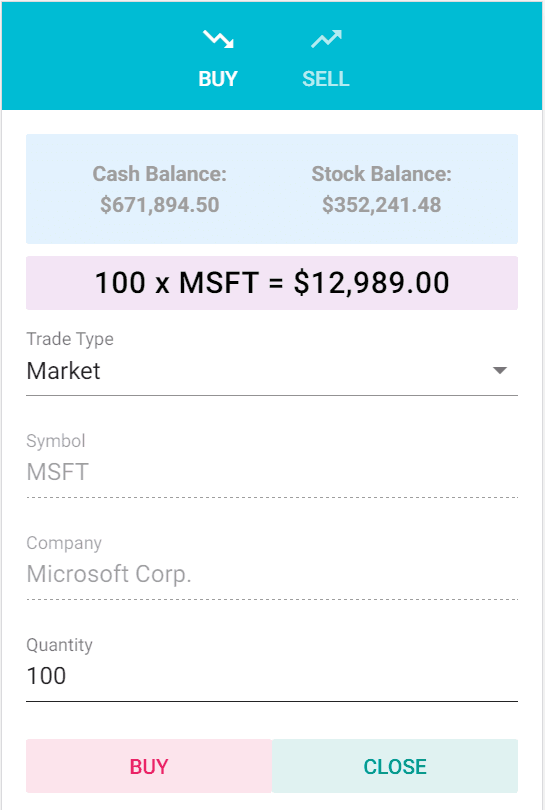 Analyze Stock Performance
Once you are done with some trading the next big and valued step in the simulation environment is to analyze your performance.
Portfolio performance is a key factor which decides your trading strategy and finance thinking. If you are doing well in simulation and you are confident that your trading strategy is working as per your expectation then you can enter the real stock market.
If your portfolio performance is not doing well you can start thinking about your strategy and revised your approach on stock selection and try again. This is where stock simulation helps you most and you are only testing your strategy without losing any money.
Tradingkart stock simulation game provides gain loss reporting about your stock holdings to help you on analyzing your stock performance.
Stock Holdings Analysis -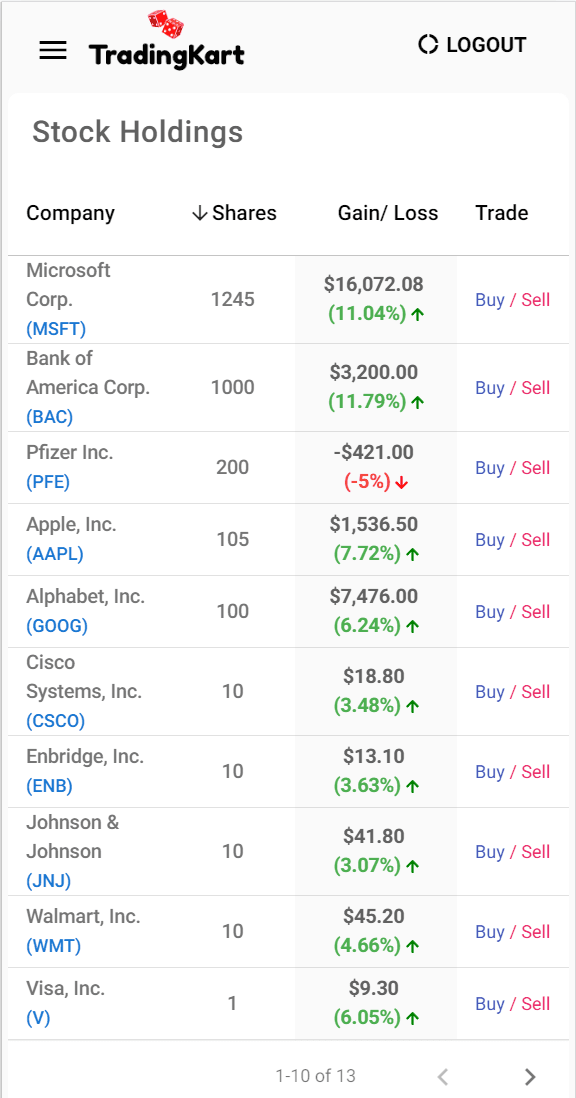 Learn diversifying Techniques
Diversifying is the key to investing and it applies to every investment process whether it is a stock investing or investing money on other forms.
TradingKart exchange provides you breakout of your stock selection against the industry sectors so that you can evaluate your diversification approach. It helps you identify your money flow in different sector and alert you if you are leaning towards a single sector approach.
Having an eye on sector diversification your portfolio helps a lot to you to systematically arrange your stock selection and get maximum education value from the simulation environment.
Diversification View -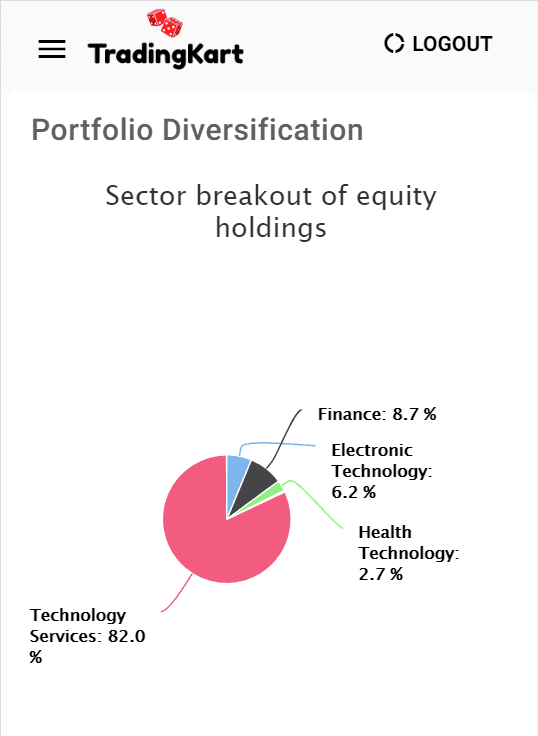 Other than the basic simulation activity tradingkart virtual trading platform offers custom watchlist and user ranking functionality as well.
Watchlist
To track your favorite stocks in a single group or if you want to create multiple groups based on stock type or industry then watchlist functionality will help you most.
Tradingkart simulation provides custom watchlist function out of the box for free for all users.
You can create as many watchlists as you want and tag your stocks in multiple groups.
Custom Watchlist Functionality -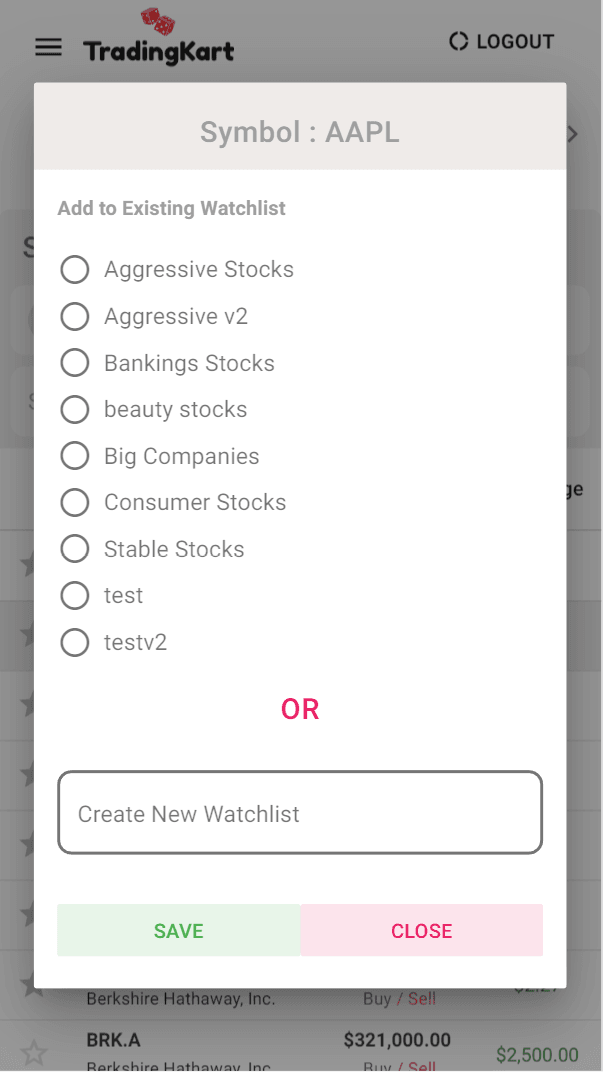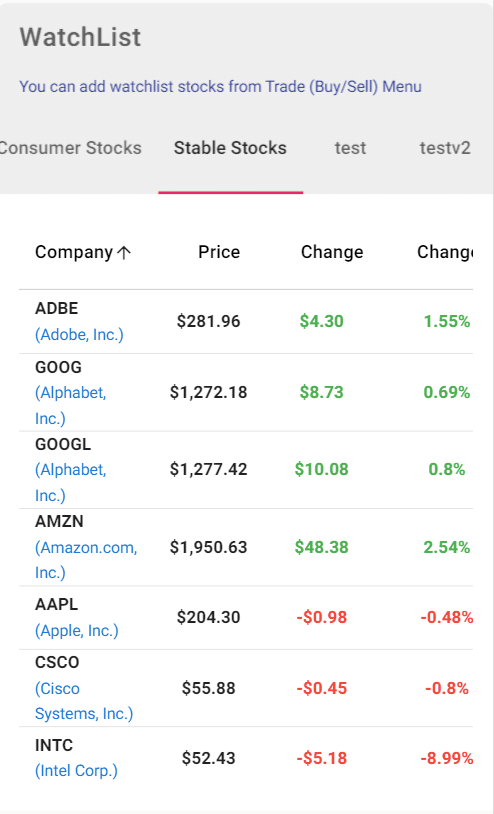 Rankings
The other valued feature provided by the stock market game is the interaction with other traders and learn there strategy and mindset to become a better investor in the long term.
Tradingkart offers you to track your portfolio ranking in entire simulation userbase and other user rankings as well. This will let you allow to see how other users are performing on the entire market basis or on particular industry stocks.
You can see their portfolio which enables great learning advantage to you.
User Rankings -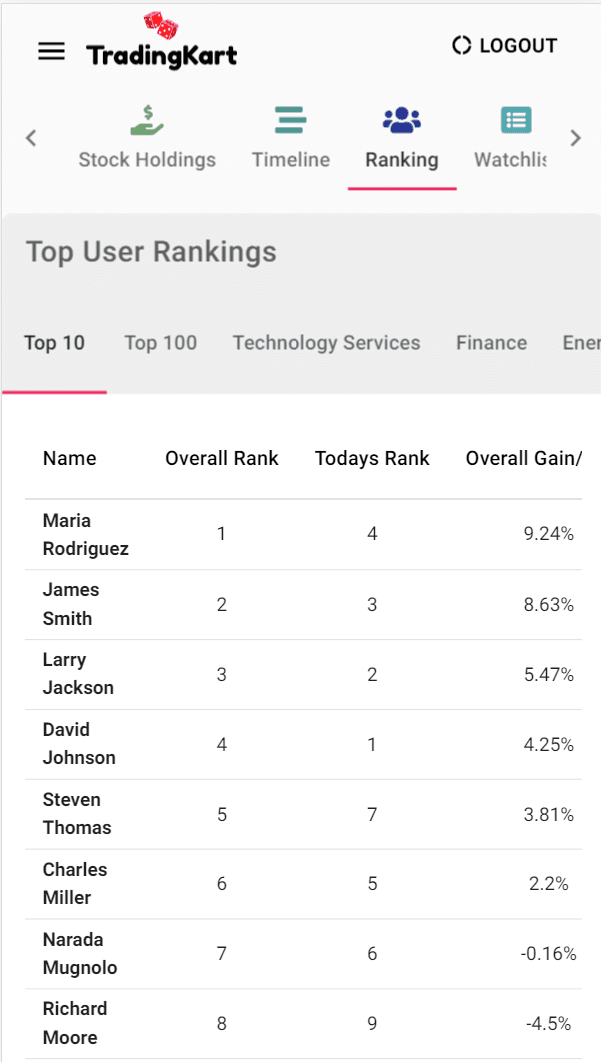 You Might be Interested in - Best Stock market Games Comparison
---