Top 10 Best Private Equity CRM Softwares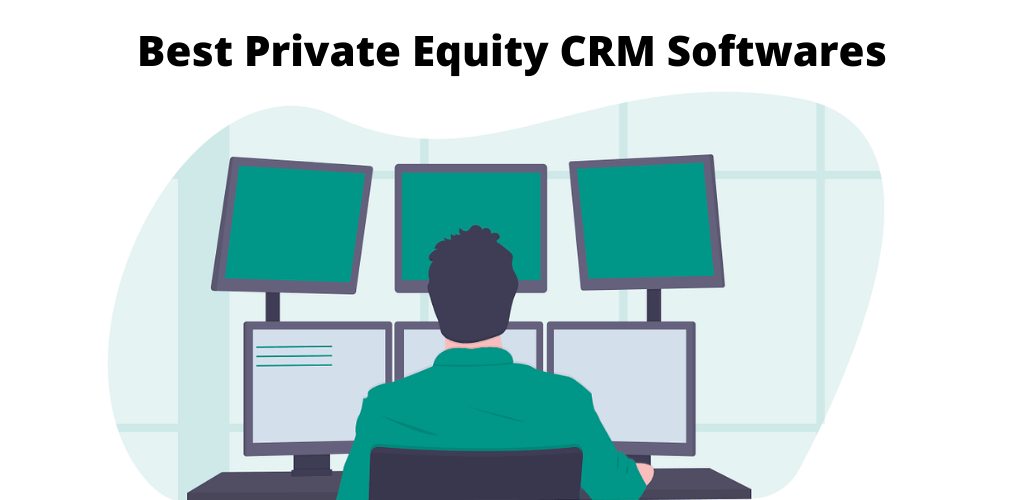 Private Equity is an business term which deals with alternate investments category of investing market. Alternative Investment category includes Limited Partnership Funds, Direct Deals to Private Companies, Hedge Funds & Real Estate Sector.
Private Equity differs from classic investment strategy where companies are usually publicly traded on stock exchanges. Private Equity only deals with companies that are not publicly traded on exchanges.
The entire concept of private equity emerge the need of a CRM software that can fulfill all the complex process of managing private equity investments and track their performance.
Private Equity Software is the solution to a number of problems faced in the market. It helps professionals to streamline and centralize their investment cycle, improve the process, keep track of data, and enhance their reports, which ultimately leads to a more respected portfolio.
To make the right selection, we will now talk about the ten best private equity software firms to employ for effective results. Let's get to it.
4Degrees
Efront
Relevant Equity Works
MRI Real Estate Private Equity Software
Altvia
Dynamo
Hitachi Solutions
Digiterre Communica
PE Front Office CRM
Navatar Edge
Xpedition Private CRM Accelerator
4Degrees is an intelligent CRM, built specifically for private investors.  The software helps private equity funds eliminate data entry, easily track deals, relationships, and get alerts so you never miss the chance to move a deal or relationship forward.
Key features include:
Customizable deal flow, LP and portfolio management: flexible fields to track stages, deal terms, documents, and company information in your format
Automated company data entry: picks up company descriptions, locations, funding history and prior investors, and logos without requiring manual data entry
Contact enrichment: pulls in work experience, locations, and areas of focus on your behalf.
Email / calendar sync: captures historical and ongoing interactions with contacts, and adds new relationships to your system
Team network visibility: search your team's network by areas of expertise, locations, seniority, interaction dates, or any field you create
Relationship strength detection: automated relationship strength scoring based on prior interactions
News detection: know when key contacts are in the news, have changed jobs, and maximize your travel with visit suggestions
Outlook and Chrome plug-ins: add and edit deals, set reminders, and manage contacts directly from Outlook or Gmail
Mobile: iOS and Android apps to access your deals and relationships on the go
Efront is a solution suite that's part of an American global investment management cooperation, Blackrock.
Blackrock cooperation is the world's largest asset manager, with $6.84 trillion assets under its management.
Efront helps investors in making decisions that will ensure their risks worth it. Efront gives opportunities for investors to maximize the result of their accounts and react to their ever-dynamic regulatory and reporting needs.
I know many questions are lingering in your sharp minds. Questions like what are the benefits of this software. Let's get to it.
Performance evaluation: Gives investors insights on their strengths and weaknesses as it is a measure of important performance factors such as TWR (Time Weighted Return), IRR (Internal Rate of Return), etc. across private equity investments including direct deals, hedge funds, real estate investments, and private equity funds.
Fundraising and deal sourcing: this is taken by the Efront office. It manages the entire fundraising process of the investors. It also monitors deal sourcing     events from one centralized location.
Data collection and account monitoring: As the title implies, it monitors whatever can be used to assess performance, which in turn leads to improvements.
Investment and fund management: this enables users to track their funds. It also monitors cash flows and returns.
Investor reporting: it gives standard reports in custom and beautiful templates.
Operations management: it manages, tracks, and audits operations that are related to your investment plan.
This firm has software that their customers use to manage their activities. This software manages investors, fund structures, and portfolio company holdings.
It gives real-time access to the company's most important business processes.
Their private equity software solution is for users with:
A high number of investors
Fund structures with: 1. Feeder funds, parallel vehicles, and blockers 2. Recallable capital 3. More complex waterfall 4. Management fee waivers
Five to ten portfolio company investments per fund characterized by - 1. A single round to acquire the portfolio company with earn-outs included 2. Securities owned by founders, co-investments and other private equity firms 3. Preferred, common, option, debenture, and bridge loan securities.
There are many opportunities offered by the software such as:
Fundraising and investor relations.
Contact management/CRM.
Investment management.
Investor portal.
Accounting system interface.
Fund administration.
Portfolio management.
Monitoring portal.
Investment and monitoring.
This gives you access to monitor the lifecycle of your investment. The software has add-ons that integrate with property management tools.
In private equity, credibility is related to return on investment. The software helps in managing risk in your investment performance.
It helps in assessing investment possibilities in impressive detail, identifying the next major investment opportunity leading to positive impacts on your portfolio.
The following points are the advantages of MRI real estate private equity software:
Due to their effective data management, it reduces risk and improves the accuracy of the report.
The software's investor portals improve relations with investors and attract new     investors to the platform.
It manages data efficiently from multiple sources, financial and non-financial. This reduces the time spent chasing data.
It offers integrated consolidation and investment accounting, which help your team work effectively and efficiently.
It makes more strategic decisions and balance risk and returns with access to all forecasted and actual data.
It ensures independence on spreadsheets to improve data security.
Real estate private equity software optimizes investment portfolio performance. It improves transparency.
Altvia is a top-ranking, highly rated CRM system for the private equity firms - a software suite that integrates and organizes data for higher operational efficiency. It enhances transparency.
These are the private equity software solution Altvia can offer:
Management of contacts and data: Altvia dispenses your relationships, workflows, and data with a private equity CRM solution that was built on the Salesforce platform. It increases efficiency and handles a large amount of data, maintains total access and awareness of your contacts and events on the platform. Additionally, it also helps generate documents and internal and external reports.
Complete fundraising solution: Engaging fundraising with Altvia is of great interest to private equity portfolio managers. It involves a clear, integrated process from the beginning to the end. It generates, distributes, and tracks PPMs. It produces real-life fundraising progress with nice reporting and dashboards. It enhances integrated email tracking and ensures they are not lost.
Optimized, efficient and deal management: It associates contacts and companies to preferred levels, asset classes, and the investment types your company can afford. It organizes a summary of meetings, interactions, and the next processes to ensure transparency. It easily generates and distributes Tear Sheets.
Business intelligence and data analytics: It enables undisturbed insight into deal flow sources, valuation trends, and more. Your dashboard can be organized to run and message other users or groups at your preferred time. It reduces manual entry and the chance for error by consolidating data sources into a centralized location.
This software helps you to leverage your perceptive and gives an understanding that can be used by investors to maximize profits.
For the past ten years, Dynamo has been operating, and they have delivered highly configurable private equity abilities that enable automation of these business processes.
The Dynamo software came into play when the company needs to centralize its operations and reduce the time-consuming tasks. It is one of the best private equity CRM software in the market.
Dynamo offers the following private equity software solution -
Investor relations: Dynamo ensures private equity investor relations by calculating and distributing calls and notices and other communications systems. It has an integrated investor portal that allows investors to view performance data.
Deal management software: Dynamo's deal management component allows the investment team to have access to deals and drive their research. It is configured to map a relationship that can handle complex cases and optimize your deal management.
Dynamo has built-in functions with Microsoft Office suite, Mailchimp suite, and many more third-party service providers. This enables you to conduct business from a single interface.
The company was named to the Four Microsoft 2019 partner of the year award. They offer the following opportunities to their private equity software vendors:
Relationship management: it simplifies the complex web of users across     institutional channels, including clients and consultants. It gives access to retail channel relationships, which thanks end users to surface important data at various levels.
Deal management: this facility is for teams. It enables your team to have better coordination for deals. It possesses real-time access to client profiles, performance data, presentation materials, and requirements.
Business development and marketing: it communicates the right messages to the right channels with a set of related tools for creating target messaging lists. This helps you to plan brilliant campaigns, execute your marketing plans, and measure your ROI via communication and campaign management.
Asset management solution: the software has uniformed Microsoft Dynamics CRM that meets the needs of top-level asset management companies. It     produces reports and dashboards on key metrics.
Document management: it improves the productivity and effectiveness of you and your team by giving them secure access to a deal room for every engagement.
Update: Dynamo Software Announces the Acquisition of Communica, the Alternative Investment CRM, Investor Servicing and Compliance Software Platform to the Alternative Investment Community.
Digiterre was founded in 2000, and it produced software products to the investment management, banking commodities, and energy trading sectors.
They created a private equity CRM software called Communica. The key advantages of Communica for private equity are as follow:
Management reports: the software provides detailed reports on sales and marketing activity, client profile, and liquidity.
Enhanced marketing processes for investor recruitment and fundraising.
Communica Connect Module: is a built-in function that allows virtual deal room facilities for users.
Easy to use data filtering functionality: this gives you the ability to analyze and classify clients with your preferred criteria.
EEC management: EEC means Enhanced Email Campaign Management     functionality, which includes dynamic Marketing lists, well-enhanced HTML     templates that can be customized. It also has to track who has been      accessing your emails and viewing attachments within your email.
This is an engine that powers deal pipeline, portfolio management, and investor management modules. It enhances productivity by providing integrated contact information and email communication.
They possess a unique Microsoft Outlook plugin Schick facilitates bi-direction synchronization of business contacts between PE Front Office CRM and MS Outlook.
It has a nice data management module with a simple interface that stores and organizes files efficiently. You can upload files directly. You can attach contacts, organizations, and deals, investors, and funds. They focus on the client's focus, like private equity, debt funds, venture capital, and real estate funds.
It is a software that powers every process of the private equity deal cycle from sourcing to close. It combines business development, deal management, actionable intelligence, project management, and document management. Its private equity software solutions are:
Business development: it allows you to build a large network of     intermediaries, buyers, and forms. It tracks companies' progress on your     waitlist.
Deal sourcing: it classifies intermediary relationships based on deals provided. It stays alert to deals that are being monitored by competitors with market intelligence.
Deal evaluation: it establishes understandable parameters for an LOI that appropriately allocates risks.
Due diligence: it enhances a strictly managed process that facilitates collaboration.
It has flawless integration with Outlook/Gmail, mobile devices, Preqin, Capital IQ, and other applications.
This private equity CRM software is built on Microsoft Dynamics 365. It works towards managing investor relations, fundraising, and so many more. They offer some solutions that will enhance your journey to success like:
Fundraising: their fundraising platform keeps track of your progress towards your fundraising targets. It calculates based on your past insights and highlights things to do to boost your fundraising activities.
Updated Design: Its design is based on the top-level Microsoft Dynamics 365     platform with upgraded changes for improved efficiency.
Deal Flow: Keeps track of the important information, so an investor knows what moves to make and when to make them
Investor relations: it meets the digital needs of modern investors, creates a web of links to key contacts and specialist advisers, which has proven to be of great help to investors.
Should you find yourself in need of a partner in making investment decisions, remember that there are no better options than these ten private equity software listed above. They have been tested in previous years over a long period of time and have successfully earned the trust of even the biggest investors.
Tags: Private Equity Vendor, Private Equity Solutions
---