Top Private Equity Firms in Consumer & Retail Sector
The private equity firms' hunt for growth vehicles never ends. They are always in search of avenues that can give ample profits.
Consumer and retail is one space where they bet heavily. The PE firms take a lot of debt to buy the companies in the consumer & retail sector. But in the greed to make a quick profit, a number of these deals turned out to be disastrous busts.
Data shows that more than 15% of the PE investments in the retail space since 2002 have gone bankrupt, and many are still in distress.
Also Read - Top 15 Best Private Equity Firms (Top PE Companies)
On the other hand, there are many deals which have fructified. Success has embraced only those who adopted new technologies, those who focused on increasing market share rather than making profits and also those who were in pace with the fast-changing consumer tastes. Innovation also played a crucial role in the success stories of these deals.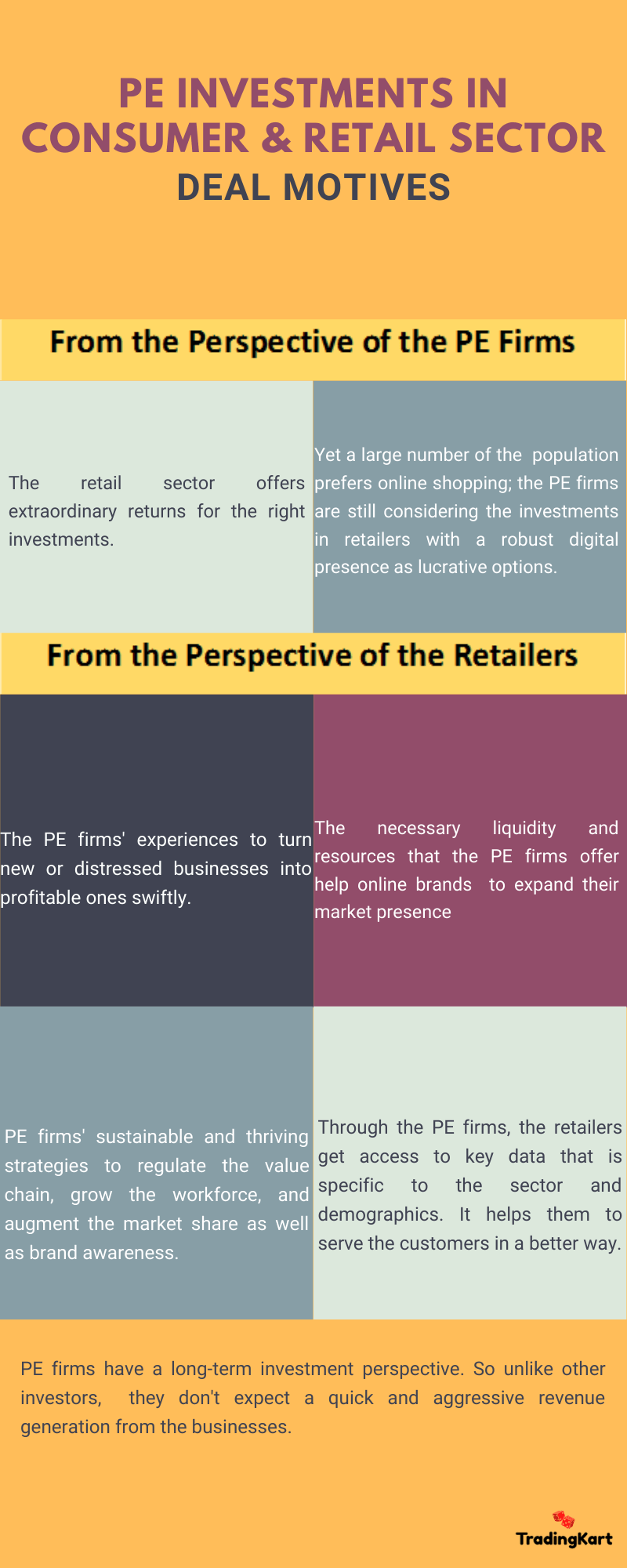 Top PE Firms Investing in Consumer & Retail Industry
Almost all the top private equity companies invest in the consumer & retail sector. A few well know PE names that invest in the consumer & retail sector are:
TSG Consumer Partners
Sycamore Partners LLC
Great Hill Partners (GHP)
Hellman & Friedman (H&F)
BC Partners
Leonard Green & Partners
Apax Partners
JH Partners
Partners Group
TSG Consumer Partners
TSG Consumer Partners is focused only on brands of the consumer & retail sector.
TSG makes minority or majority investments in companies that have the potential to grow in revenue terms, have innovative ideas, and are led by a team of progressive thinkers. The firm helps its clients to explore new markets, expand their product range, and meet the changing customer needs in innovative and unique ways.
At present, the fund commitments of TSG stood at $9 billion. Since its inception in 1987, TSG has made more than 110 investments. Its active portfolio comprises of 18 companies.
Sycamore Partners LLC
Founded in 2011, Sycamore Partners is a New York based private equity firm that specializes in investments in consumer, distribution, and retail segments. The strategies of the firm include distressed buyouts, leveraged buyouts, complex corporate carveouts, and debt investments.
Sycamore has an AUM of $10 billion. The current portfolio companies of Sycamore include Belk, Coldwater Creek, CommerceHub, NBG Home, Staples Inc., etc.
Great Hill Partners (GHP)
Incorporated in 1998, Great Hill Partners invests in the businesses of sectors like consumer, financial services, technology, healthcare, media & communication, etc.
The firm invests a sum ranging between $25 million and $500 million in private and public companies with enterprise value up to $1 billion. GHP is interested in acquiring (more than 30% ownership) mid-size companies.
The active portfolio of GHP comprises of about 30 companies. The firm has executed most of its deals without debt. GHP's extensive business and sector knowledge help its partners to achieve sustainable growth.
Hellman & Friedman (H&F)
Hellman & Friedman (H&F) started its voyage in 1984 in San Francisco. Today, it's one of the most experienced players in the private equity industry that invest in several sectors like retail & consumer, financial services, healthcare, technology, and the list goes on.
H&F's strategy to make only a few investments each year helps it to focus on a selected group of high-quality companies. Over 30 years, H&F has raised over $50 billion capital, and its current portfolio has more than 20 companies from various sectors. Presently, the firm has three offices and more than 60 investment professionals.
BC Partners
Established in 1986, BC Partners concentrates on alternative investments like private equity, real estate, and credit. The strategy to focus only on core sectors and on limited geographies helped the firm to create strong values and deep partnership culture with the players of the segments.
At present, the private equity business of BC Partners has a fund commitment of €20 billion.
Over three decades, the firm has made 113 PE deals across five sectors in 18 countries and creates an enterprise value of €145 billion.
BC Partners is currently in the process of investing in its 10th private equity fund. It chiefly focuses on control buyouts in business with an enterprise value of more than €300 million in Europe and North America.
BC Partners helps the companies to create value through strong cash flow.
Leonard Green & Partners
Leonard Green & Partners (LGP) is a leading name in the private equity space of the US. Over the three decades, it has made investments in more than 90 companies in the form of buyouts, recapitalization, growth equity, etc.
The sector focus of LGP is consumer & retail, healthcare, business services, industrial, and distribution. Currently, it has a portfolio of about 40 companies from various sectors. LGP invests only in the market leaders with notable positive cash flows and which have the potential to grow at a quicker pace in comparison with the economy.
Apax Partners
Apax Partners focus only on growth companies in four sectors: consumer, healthcare, services as well as tech & telco. Apax's in-depth sector knowledge helps it to make deals with the market leaders of these sectors.
In its journey that spans more than four decades, Apax has raised and advised funds with an aggregated sum of circa $50 billion.
The network of Apax comprises of 220 employees and seven offices situated in three continents.
In the consumer space, Apax has invested more than €7.4 billion. In this space, Apax looks to invest in large companies of retail, consumer & leisure as well as digital consumer businesses.
The firm's consumer team focuses on companies located in Asia, Europe, and the Americas. The popular deals that Apax made in the consumer segment are SouFun in China, Cole Haan in the US, and New Look and Trader Media Group in the UK.
JH Partners
Exclusively focused on the consumer sector, JH Partners invests in brands across the world. The firm assists its partner companies to expand business in Asia, Europe, and Latin America.
With its in-depth industry experience, a robust track record, and a highly talented team of professionals, JH Partners aids its clients to foray into new markets, expand sales network, and also in brand building. The firm's multichannel strategies help the partnering companies to expand into new channels and thereby reach more customers.
Partners Group
With a fund commitment of $94 billion and having a network of 1400 specialists in twenty offices located at different parts of the globe, Partners Group is one of the most significant PE players in the world.
The Assets Under Management (AUM) of Partners Group grew 15% since 2010. In geographical terms, the UK accounts for a majority of its AUM (22%), followed by North America and Germany (16% each).
Since its incorporation, the firm has invested $130 billion so far. It creates value in partner companies through long-term and active ownership.
The private equity business of Partners Group invests in an array of sectors, and the major ones are consumer, healthcare, technology, and financial services.
The private equity business contributes about 48% to the total AUM of the company, and in dollar terms, it stood at 45 billion as of 31 December 2019. Since 1996, the firm has invested $66 billion in 240 businesses.
In 2020, Partners Group is looking to build resilience through asset-level value creation and strong governance.
The Current Trend
The world of retail is going through a transformation phase now. The future success of the industry is currently lying in the hands of brick and mortar stores. With more and more online retailers going bankrupt, the physical stores are once again in vogue.
In the recent past, there was enough noise that PE firms are behind the death of many retailers. The business of private equity is precarious.
They buy distressed businesses at throwaway prices and use rational processes to convert these businesses into lucrative ones. So in a few cases, when the equations go wrong, it's quite apparent that some blame may come in the shoulders of the investors, but at the same time, they are not the only drivers for the negative results.
At present, when the valuations seem to be pretty high, competition is immense, and new investment classes are emerging within private equity, the PE firms are not in a hurry to invest.
They are sitting with record-high dry powder and are waiting for the right time as well as the best catch. PE firms invest in retailers of all sizes and stages. Yet, success can be achieved only when the investors understand the goal of the business.
---